Pepperdine Board of Regents Chair Dee Anna Smith Named AACSB 2021 Influential Leader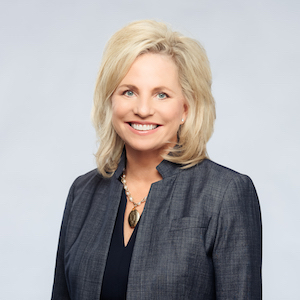 On February 16, 2021, the Association to Advance Collegiate Schools of Business International (AACSB) named Dee Anna Smith ('86), Seaver College alumna and chair of the Pepperdine University Board of Regents, one of the association's 2021 Influential Leaders. Smith is recognized alongside 25 business school graduates across the nation for their positive contributions to their industries and society.
"For years we have witnessed the outcomes of Dee Anna's commitment to education and enterprise. We at Pepperdine are proud of her contributions to both and are grateful for the ways her public leadership aligns with her extraordinary service to the University," shares president Jim Gash (JD '93).
Smith currently serves as the chief executive officer of Sarah Cannon, the Cancer Institute of HCA Healthcare. Since her appointment as CEO in 2006, she has expanded Sarah Cannon's reach in bringing world-class cancer care closer to home for hundreds of thousands of people facing cancer across the United States and United Kingdom. The organization has also been a key contributor in clinical research that has led to the majority of newly approved cancer therapies over the last decade.
"Dee Anna is yet another example of Seaver College graduates creating meaningful change within, and beyond, their industries," shares Seaver College dean Michael Feltner.
Guided by her faith, Smith has always had a passion for helping those in need. Over the last decade, she has been recognized for her commitment to creating connections and removing barriers within faith communities. Most recently Smith received a Rodgers Award by Nashville-based Operation Andrew. Additionally, she has been honored as a Health Care Hero by the Nashville Business Journal and received a Heroes of Business Award from Lipscomb University.
Smith is a member of the American Institute of Certified Public Accountants and American Society of Clinical Oncology, serves on board of the Nashville Health Council, and is a former board chair of the Nashville Entrepreneur Center. In August 2019 Smith became the first Pepperdine graduate and woman to be named chair of the Pepperdine Board of Regents.
"Dee Anna Smith has inspired the world and is using her business education to create a positive impact on society, and AACSB is delighted to recognize her among the 2021 Class of Influential Leaders," says AACSB president and CEO Caryn L. Beck-Dudley.
Read Smith's honoree profile on the AACSB Influential Leaders website.