Pepperdine Alumnus Leads Creativity Summit into its Second Year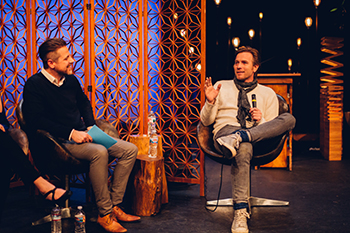 Dr. Steve Ralph, Seaver College ('97) and Graduate School of Education and Psychology ('17) alumnus, prepares to host the annual EPIC International Summit on March 26 through March 28, 2020, in Santa Barbara, California. The summit marks the second year of the creativity and innovation conference after its breakout event in 2019.
In January 2019, the conference's inaugural event welcomed a wide spectrum of professionals including educators, entertainers, and entrepreneurs for three days to focus on re-igniting creativity to produce innovative problem-solving in their professions and communities. Attendees had various options between immersive workshops, engaging interviews, and panel discussions. To increase engagement, Ralph added an option to unplug from devices for the three-days. "I didn't expect everyone would disconnect, but I was blown away to see all of our guests take the 'disconnect pledge,'" he shared. For this unique approach of disconnecting from technology to disrupt habits and discover new insights, Bizbash named the summit one of 2019's most innovative meetings.
Guests jumped between panel sessions and keynote presentations featuring speakers like Joe Rhode, creative executive for Walt Disney Imagineering, and more. The conference culminated in the EPIC Innovation Awards to benefit the non-profit School on Wheels and honor top artists (Ewan McGregor, 2019 EPIC Artist), community innovators, and more.
Ralph is thrilled to continue the conference in March 2020. The event, mirroring the structure of 2019's retreat, will feature notable speakers such as Emmy award-winning filmmaker John Chester (Biggest Little Farm), award-winning choreographer Bradley Rapier, dean of academic affairs at the US Air Force Lieutenant Colonel Jason Trew, Creative Visions founder Kathy Eldon, and many more.
"I believe the 2020 EPIC International Summit will be such a unique experience with the outstanding line-up of speakers from a diverse array of industries and backgrounds. Unlike many conferences where the focus may be on a specific industry, EPIC fosters an experience for cross-pollination of international professionals that normally would not be together, such as actors, entrepreneurs, and educators. It is at this type of intersection of diversity that creative insights can flourish. Add the unplug from devices element to eliminate distractions and EPIC 2020 becomes a very ripe environment for innovation," Ralph shared.
Ralph's background spans across business development, higher education, entertainment, and non-profit organizations. In addition to his role as a professor at Pepperdine's Graziadio Business School (GBS), he is the founder and President of EPIC Impact Society, the non-profit that produces the Summit. He also founded Open Ingenuity, LLC for which he serves as the CEO to facilitate creativity and innovation through workshops, individual coaching, and event productions. Ralph utilizes the creative-problem solving process with the businesses he consults and with his students at GBS. He is a licensed trainer in Strategic Play LEGO® SERIOUS PLAY®, a certified facilitator in the FourSight Thinking Assessment, and a trained Coaches and Training Institute (CTI) coach.
Seaver College alumni are eligible for a special registration discount with code EPICWAVES20. For more information, visit the EPIC International Summit's website.