Los Angeles Deputy Mayor Nina Hachigian to Visit Pepperdine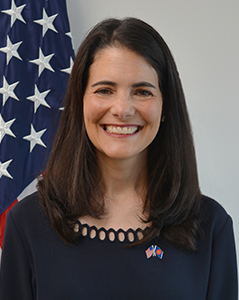 The International Studies and Languages Division at Seaver College is hosting deputy mayor Nina Hachigian on Friday, November 8, for an engaging conversation with students about international affairs and Los Angeles. Hachigian's talk, "Los Angeles in the Changing Landscape of International Affairs," will begin at 1 PM in the Surfboard Room at Payson Library.
Before being appointed as the first deputy mayor of international affairs, Hachigian served as the United States ambassador to the Association of Southeast Asian Nations (ASEAN) during the Obama administration. Since stepping into her new role in 2017, Hachigian has been tasked with increasing and strengthening international ties with Los Angeles by bringing jobs, increasing tourism, and celebrating culture. The deputy mayor is also responsible for the development of the 2028 Olympic and Paralympic Games in Los Angeles.
Hachigian received her bachelor's degree from Yale University and her JD from Stanford Law School. She edited the book Debating China: The U.S.-China Relationship in Ten Conversations and co-authored The Next American Century: How the U.S. Can Thrive as Other Powers Rise.
The lecture was made possible by Felicity Vabulas, assistant professor of international studies, as part of the Women in International Studies Speaker Series. Vabulas created the series with the goal of connecting students with experts while also promoting the work of women leaders in international studies. The series, now in its second year, has expanded the Seaver student experience beyond the classroom by inspiring career paths and issues for future research.
For additional information about the lecture, visit Pepperdine Libraries.