Jaz Gray Featured on NPR and BBC to Discuss Movie Villains with Facial Differences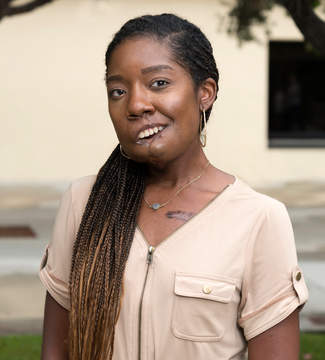 In fall 2021, Jaz Gray, assistant professor of communication studies, was featured on the National Public Radio show 1A and BBC Radio to discuss the frequently occurring trope of villains with facial differences in films, specifically in light of the latest James Bond film. The segment, entitled "What Villains With Facial Differences Mean For People With Facial Differences," also featured Ani Spooner, board director of the international, non-profit organization About Face, and Fiona Whittington-Walsh, a sociology professor and researcher at Kwantlen Polytechnic University in Canada.
Gray detailed the emotions she felt when she realized that the villain in the recent James Bond film, "No Time to Die," was represented by someone with a disfigurement.
"I have always valued the role that entertainment can play in my own life and the lives of others, not only giving us an escape from challenges we may be facing in our own lives but allowing us to learn something from the characters we see onscreen," Gray shared in the interview. "When I realized that they were once again using the villain role and representing that through someone with a disfigurement, I was disappointed but also motivated. I think this is a perfect time to use this as an opportunity to teach and push the conversation forward."
Gray also elaborated on the challenges that face people with facial differences, including teasing and bullying, depression and anxiety, and even physical abuse. People with facial differences are also often discriminated against when applying for jobs.
"When we talk about these images that we see onscreen, it's important for our listeners to remember that the images you see onscreen shape how you see people in real life," Gray said. "Media shapes culture and media shapes areas of society that impact our quality of life, including our ability to get employment, health, education. All of those sectors become barriers for people with facial differences to get involved in society and the world."
To listen to the full interview, visit the NPR 1A website.