First-Year Students as Scholars Program Contributes to Scholarly Research While Increasing Retention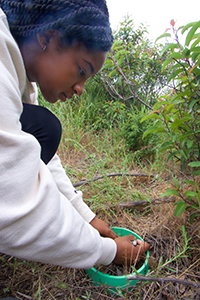 Seaver College assistant professor of biology Leah Stiemsma, Professor Emeritus Stephen Davis, and divisional dean of the Natural Science Division Jay Brewster co-authored a recent study, "Analysis of Microbial Water Contamination, Soil Microbial Community Structure, and Soil Respiration in a Collaborative First-Year Students as Scholars Program (SAS)," published in Frontiers in Microbiology.
Pepperdine's First-Year Students as Scholars (SAS) program, funded in part by the National Science Foundation, allows natural science majors to perform original research alongside faculty mentors. While evidence shows that retention for students in STEM fields remains low, student participation in SAS programs increases retention by 15 percent. In their study Stiemsma, Davis, and Brewster look closely at Pepperdine's SAS program and student's work in microbiology.
First-year students in SAS were not only able to work closely with faculty mentors but also experience research students while they studied water quality surrounding Malibu, soil microbiome, and soil respiration. They found that these projects provided considerable improvement in student engagement, retention, and excitement in their major through their participation in original scholarly work and dedication to academic excellence.
To read the full study, visit Frontiers' digital publication.