First Wave Ambassadors Support First-Gen Students Through Remote Learning in Fall 2020
As fall 2020 classes began on August 17, the second cohort of First Wave Ambassadors were ready to support their fellow first-generation college students. The new 2020 ambassadors—juniors Jerry Calderon, Umeesha D'Alwis, and Hana Shim—bring their unique expertise and area of study to the Student Success Center to support a variety of first-generation college student needs.
Since 2018, the First Wave Program has dedicated itself to developing and offering resources to first-generation college students to help them thrive at Seaver College. The program quickly garnered the support of more than 20 faculty members and earned Pepperdine recognition as a First Forward Institution from the Center for First-generation Student Success, an initiative of NASPA—Student Affairs Administrators in Higher Education—and the Suder Foundation. In an effort to expand support through one-on-one peer mentoring, the First Wave Ambassador program launched in 2019.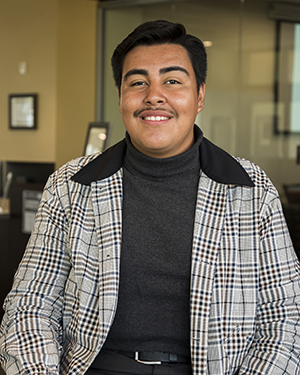 As one of the inaugural cohort of ambassadors, Jerry Calderon is excited to continue supporting first-gen students in his second year as a First Wave Ambassador. Growing up in Santa Clarita and San Fernando, California, not a day went by in which his mother didn't encourage him through his educational journey. Despite finding joy at Pepperdine, Calderon sensed a lack of community in his first semester before getting involved with fellow first-gen students in clubs, student government, and finally the First Wave program. As an ambassador, Calderon hopes to help every first-gen student "be authentically and unforgivably themselves." Majoring in psychology with a minor in English, his passions lie identifying and working against adversities that low-income students and students of color face every day. He is eager to continue helping first-gen students through the challenges of this year while also fostering community through Zoom-based events, movie screenings, and more.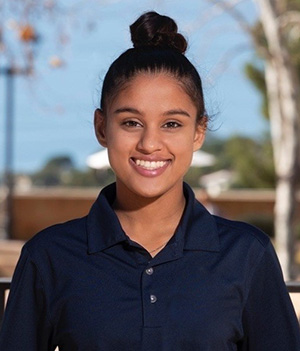 Umeesha D'Alwis grew up in Cerritos, California after her and her family immigrated from Sri Lanka. As both a first-generation college student and a first-generation immigrant, she relates to many first-generation students who feel they lack common connections and resources to help them thrive throughout their education. D'Alwis hopes to share her own connections and tips with fellow first-generation students so they feel supported at every turn. She hopes, even as this semester begins remotely, that all students don't hesitate in making the step to reach out to anyone and everyone. "Ultimately, we are here for professional development but also personal development," D'Alwis shares. She credits her parents, her most valuable support system, as the reasons behind her majoring in computer science and philosophy.
Hana Shim is Native Hawaiian born and raised in Oʻahu, Hawaiʻi. She attributes her love for mathematics to helping her family run a stall at their neighborhood market. When looking for universities, she wanted to spend time on the mainland while also staying within a short plane trip back to family. Pepperdine was the perfect fit. In her first year at Pepperdine, Shim recalls trying to navigate confusing scholarship applications and attempting to break through barriers and obstacles that aren't often talked about. The First Wave program helped her identify herself as a first-gen student and gave her a community of support so she didn't have to face the challenges alone. Shim brings her passion for service to every area of her life and is thrilled to support first-gen students like her through remote learning and beyond. Majoring in mathematics and minoring in economics, Shim hopes to pursue an actuarial license to help indigenous communities acquire land entitlements with minimal risk.
To learn more about the First Wave program or to find the First Wave Ambassadors' office hours, visit the First Wave Program website.