Fine Arts Division Presents Fall Musical "Into the Woods"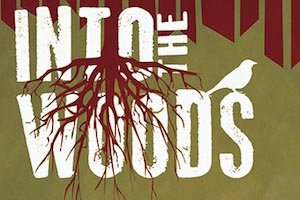 The Pepperdine University Fine Arts Division will present its Luciana and Daniel Forge Fall Musical, a new production of Into the Woods, at 7:30 p.m. Thursday through Saturday, from Nov. 13 to Nov. 22, with a 2 p.m. matinee on Sunday, Nov.16, at Smothers Theatre on Pepperdine's Malibu campus.
Fractured fairytales come to life when a childless baker and his wife endeavor to lift their family curse by journeying into the woods, where they encounter a host of Brothers Grimm characters, including Rapunzel, her Witch of a mother, Cinderella, Jack (of Beanstalk fame), Little Red Riding Hood, and two handsome Princes. Everyone in the story has a wish—and in true fairytale fashion, their wishes are granted—but what they have to do to get their wishes is a whole different story!
This modern reimagining of the beloved musical by Stephen Sondheim offers a glimpse of what happens after "happily ever after"; what begins as a clever diversion, a simple fairytale, ultimately leads down a dark path of self-discovery to a universal message of hope.
Dimitri Toscas, an acclaimed director of plays, musical theatre and opera, helms an all-student cast, with Tyler Kimmel serving as musical director.
"I'm excited to be directing Into the Woods as my first show here at Pepperdine University," says Toscas, "but if that wasn't thrilling enough, the Fine Arts Department has encouraged me, along with my team of designers and our talented student cast to go 'deeper into the woods,' to reimagine this beloved musical for a more contemporary audience."
"Our take on this modern storytelling involves a completely new production: original costumes, innovative set design and contemporary visuals by way of artful projections," Toscas continues. "This process has allowed us to scratch away the surface of these characters, and their well-loved fairytales, to discover the universal messages that are hidden underneath."
Fantastical and enchanting with a dark-comedy underbelly, Pepperdine's new production of Into The Woods packs a unique visual punch, while maintaining the sophisticated music and story that has thrilled audiences worldwide.
Into the Woods is licensed by Music Theatre International (MTI).
Tickets, priced at $20 for the public, $10 for Pepperdine students, and $16 for Pepperdine faculty and staff, are available now by calling the Pepperdine Center for the Arts box office at (310) 506-4522. Tickets for the general public are also available on the Center for the Arts website.