Experiential Education Program Prepares Teachers for Social Justice Education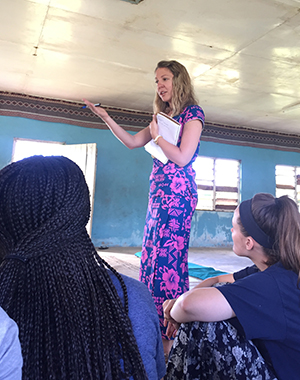 Seaver College assistant professor of teaching Elizabeth Yomantas published a chapter, titled "Social Justice Experiential Education in Rural Fiji," in the edited collection Integrating Social Justice Education in Teacher Preparation Programs. The book, released in June 2020, features essays exploring pedagogy to help teacher educators incorporate social justice or anti-racist pedagogies into their curriculum.
"Culturally responsive experiential education programs have such rich potential and natural opportunities to nurture emergent critical consciousness," Yomantas shares. "Critical consciousness serves as a precursor for the transformation of the self and consequently of society, so it is an honor, privilege, and great joy to walk alongside students as they arrive at these new understandings."
In summer 2019, Yomantas led a cohort of 20 Seaver College students for an experiential education program in Fiji. During the program, students across academic divisions explored ways to incorporate "pedagogies of love" into their work in the classroom or beyond. Yomantas attributes the Fijian sense of "vanua," which views community holistically to include resources, land, and people's relationship, as a foundation for classrooms to become places of transformation where each member is valued and heard. The chapter highlights the importance of preparing educators for social justice work and the notable success of experiential education programs in this effort.
To learn more about the publication, visit the Integrating Social Justice Education in Teacher Preparation Programswebsite.