Dance in Flight to Perform at Smothers Theatre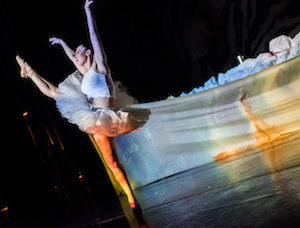 Pepperdine University resident dance company Dance in Flight will perform at Smothers Theatre in Malibu, from Thursday to Saturday, February 9 to February 11, at 8 PM, with a special matinee performance at 2 PM on Saturday.
The performance is inspired by true events and real social movements of the 1960s. Intended for mature audiences, the show is an expression of the students' call for justice and their hope for a future without fear or oppression.
"The show is couched in the context of the 1960s and stemmed from a simple yet significant vision to explore the interconnectedness of past and present. Since the 1960s are directly applicable to our current social climate, our company devoted the past six months to creating a narrative that not only captures the essence of the decade but also highlights select social movements," explains Lauren Chong, Dance in Flight creative director. "If this show prompts you to consider a new perspective or ask what you can do to help further social justice, than I believe we accomplished our work as artists."
Additionally, the elements of the show are meant to unite the community in empathy and rally around the purpose of cherishing the dignity of the individual.
"This year, we are using the stage as a platform to speak up as students of the University, a dance company, and as individuals," says Lauren Sanchez, Dance in Flight company director. "Throughout the process of creating this show, we learned how to work together and create one message of grace, love, and unity, while also engaging with heavy topics, such as prejudice, oppression, and power."
Dance in Flight embodies the diversity and essence of Seaver College and the liberal arts tradition. Members come from a variety of dance backgrounds, interests, and fields of study, and are united by their passion for the art of movement, as well as their dedication to presenting an impressive showcase of student artistry.
For 24 years, Dance in Flight has provided an environment for emerging student dancers and choreographers to cultivate creativity, physical expression, and teamwork in a professional performing atmosphere. Through choreography, casting, rehearsals, and collaboration with lighting and costume designers, students develop significant leadership skills that become useful in all aspects of adult life. Performances spotlight Pepperdine students of all majors and backgrounds, and feature a variety of dance principles that include jazz, hip hop, tap, ballet, modern, theatrical, and ballroom.
Ticket prices are $20 for general admission, and are required for attendance. For additional information about the dance company, and to purchase tickets, visit the Center for the Arts website.