Constance Fulmer Celebrates Six Academic Publications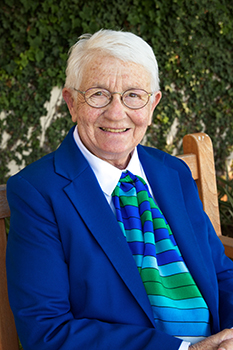 Constance Fulmer, Blanche E. Seaver Chair in English, celebrates six academic publications on the leading Victorian author George Eliot throughout 2019, the year of Eliot's 200th birthday. The six publications include one book and five shorter contributions appearing in collections or journals.
"I am very fortunate to look back at such a successful year" Fulmer shares. "And I am incredibly thankful for the generous, supportive individuals at Pepperdine who continue to encourage my research."
The breadth of topics in Fulmer's latest publications is a testament to the complexity and continued relevance of Eliot's work. Fulmer illuminates Eliot's approach to engaging moral issues while also battling the anxieties of a dual persona—her pen name George Eliot and her private identity Mary Ann Evans—both of which manifested in her writing as well as many internal conflicts. Fulmer also highlights Eliot's remarkably modern views saying, "She is not for an age but for all time."
Fulmer's 2019 publications include:
The book George Eliot's Moral Aesthetic: Compelling Contradictions
The essay "George Eliot's Use of Horses" in the collection Victorians and Their Animals: Beast on a Leash edited by Brenda Ayres
The essay "Same-Sex Attraction in George Eliot's Writing" in the collection George Eliot: Interdisciplinary Essays
The essay "Intimations of Same-Sex Attraction in George Eliot's Fiction" in the collection Still Crazy About George Eliot 200 Years Later
The article "George Eliot's 'The Lifted Veil' and 'Brother Jacob' as Expressions of Her Personal Anxieties" in Victorians: A Journal of Culture and Literature
The essay "The Child is Father of the Man: George Eliot's Writings about Animals and Children" in the collection Animals and Their Children in Victorian Culture.
Constance Fulmer joined the Pepperdine faculty in 1990. During her tenure, she has served as divisional dean of the Humanities and Teacher Education Division and as associate dean of Seaver College from 2007 to 2016. Her research focuses on Victorian literature with an emphasis on the British writers George Eliot and Edith Simcox. She anticipates the completion of a three-volume collection of the critical works of Edith Simcox in 2022.