Carrie Wall Examines Student Challenges and School Support During Pandemic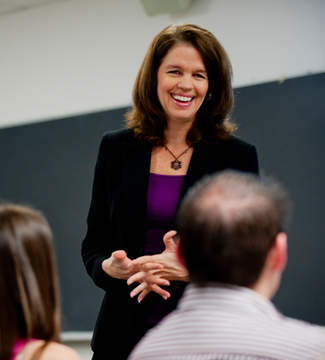 Carrie Giboney Wall, professor of teacher education and undergraduate coordinator of the teacher preparation program, recently published an article entitled "What Hurt and What Helped: How One School's Trauma-Informed Approach Provided Support During the Pandemic" in the Journal of Loss and Trauma. Wall sought a greater understanding of the unique challenges students and families at a local Title I elementary school faced during the pandemic and how the school supported them using a trauma-informed approach.
Wall administered questionnaires and conducted Zoom interviews with teachers and various staff members at the school. She found that students and families faced "physical, academic, and social-emotional challenges related to accessing learning, developmentally-unfriendly pedagogy, and lack of socialization." In response, the school took a trauma-informed approach that focused on cultivating relationships, shared agency, structure, self-regulation, and social-emotional learning in order to "reduce isolation, build community, and strengthen resilience."
Teachers worked to cultivate relationships and community with their students and families, hosting online family game nights, literacy events, parenting workshops, and providing support in finding new places to live or new jobs. Once the school entered into a hybrid model, educators created predictable routines for students, warning them before modifying schedules, and sharing control within the classroom. The school facilitated social-emotional learning by infusing "The 7 Habits of Happy Kids" (Covey, 2008) into their curriculum and daily problem-solving, fostering habits like being proactive, beginning with the end in mind, and cultivating life balance.
"Following a tumultuous year of collective trauma and loss, the goal of schools should not be to return to education as usual, but rather to reimagine how schools can be more inclusive, responsive, and purposeful in meeting student needs, facilitating learning, and supporting well-being," Wall shares in the study.
Wall was a recipient of the Academic Year Undergraduate Research Initiative (AYURI) which supports faculty-student research collaborations across all academic divisions. Through the support of the AYURI, Seaver student Nadine Borum collaborated with Wall on the research.
Carrie Giboney Wall has taught at Seaver College for 19 years, educating students on human development, literacy theory, educational foundations, and more. Her research interests include trauma-informed practices, preservice teacher learning, community-based learning, and resilience in education, and her research has been published in Teacher Education Quarterly, Teaching Education, and the Journal of Aggression, Maltreatment, and Trauma, among others.
To read the full publication, visit the Journal of Loss and Trauma page.