Capstone Course Empowers Students to Launch Their Businesses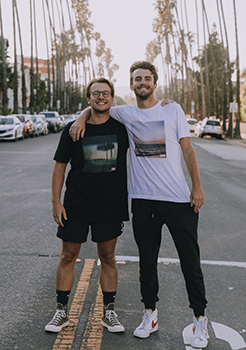 Debbie Wideroe, visiting professor of communication and director of the communication internship program, celebrated business launches with her spring 2020 advertising capstone cohort. The course goal, Wideroe shares, is to help each student prepare an individual business plan and portfolio that may help them in their future job search.
"Despite all of the added stress and uncertainty spring semester brought, I was so encouraged to see students excel in the remote format and continue working on their passions," shares Wideroe.
After returning from a mission trip, Jaxon Burgess ('20) and Lyle Nelson ('18) thought of sending cameras around the world to capture moments of inspiration. In 2019, they sent their first camera to a village in Kenya. When they began developing their photos, the gears started turning on how to turn this small idea into a scalable business that could help capture and share different perspectives while also giving back to communities.
Wideroe's course helps students turn their ideas into a tangible business proposal. After quick revisits to materials covered in the students' previous communication courses, students delve into more hands-on applications for their own businesses. Students complete a thorough competitive market analysis, perform quantitative and qualitative research and build sustainable marketing and advertising plans, and even have the chance to network with venture capitalists.
"It was such an unforgettable experience," shares Burgess. "I kept reminding myself, 'I get to do this for school.'"
Burgess is just one of many students who have launched their projects. As an educator, writer, and experienced advertising and brand specialist, Wideroe has taught the course for over 20 years after first building it at California Lutheran University. Through the years students have built businesses in a diverse range of industries, including e-commerce, non-profit, consumer products, entertainment, and physical wellness.
To learn more about Living in Frame, visit their website.