Art Exhibit Centers on Personal and Community Grief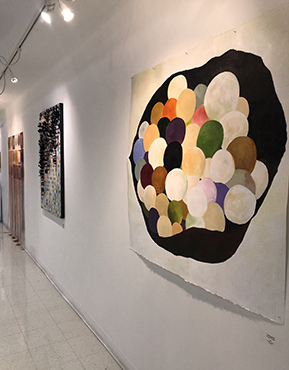 Seaver College alumna and artist Peggy Pownall ('77) is featured in the latest exhibit at Studio Channel Islands in Camarillo, California. The exhibit, which runs from June 13, 2020 through July 25, 2020, presents art from Pownall, Sandra Klein, Frances Elson, Daggi Wallace, and Katherine Chang Liu whose pieces center on the theme of loss and grief.
"While I was working through my own grief, these pieces felt so personal, yet they still communicated such universal messages," Pownall shares as she reflects on the series.
In 2016, Pownall's husband and beloved Pepperdine faculty member Tim Pownall passed away suddenly. As the associate director of the Pepperdine Straus Institute, a teacher, and an empathetic student advisor, his loss was deeply felt in the University community. Pownall felt compelled to communicate her journey through grief with this powerful exhibit.
The exhibit, titled "There and Back Again," leads viewers through five mixed media artists as they process family histories like that of Elson's work on glass; the Borderline shooting, with several portraits of the victims including Pepperdine student Alaina Housley; the Woolsey fire; and loss of parents, spouses, and children. The gallery is organized in a way the viewer must traverse grief again and again without a clear itinerary or map. The varying textures used in the series, such as charred wood, glass, and textiles, creates a visceral and intimate response.
Studio Channel Islands, located at a refurbished elementary school in Camarillo, is a nonprofit organization that connects the community to art through regular exhibits in their Blackboard Gallery, education events, festivals, and more. Pownall works alongside nearly 40 artists-in-residence in their classrooms turned art studios across the campus.
To schedule a private viewing of the exhibit or to explore the digital exhibit, visit the Studio Channel Islands website.