Seaver Alumni Publish Article Continuing Decades-Long Research on Poison Frogs and Amphibian Adaptations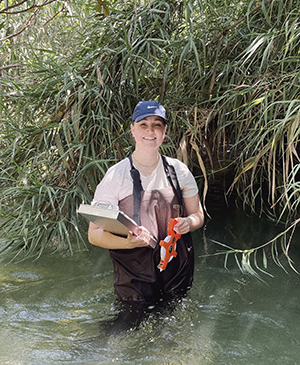 In the summer of 2022, Seaver College alumni, led by Morgan Clark-Ota ('17), Seaver College vice provost Lee Kats, and UCLA professor Gary Bucciarelli collaborated on the article "A natural experiment identifies an impending ecological trap for a neotropical amphibian in response to extreme weather events." The paper was published in the journal Ecology and Evolution. The contributors also included William Ota ('17), Sierra Smith ('20), Brett Muramoto ('20), Summer Ngo ('18), Gabriella Chan ('18), Maxwell Kenyon ('18), Matthew Sturtevant ('19), and Max Diamond.
Vice Provost Lee Kats' Behavioral Ecology Research Laboratory has been studying the behavior of strawberry poison frogs at La Selva Biological Station in Costa Rice for decades. This paper is the most recent research to come out of the lab, and it focuses on how a massive, rare storm in the study site impacted poison frog behavior, building upon prior research from the lab.
Previous work in the Behavioral Ecology Lab has shown that poison frogs avoid ultraviolet radiation exposure from the sun by choosing to vocalize from spots on branches with low exposure. However, when the storm destroyed large sections of the forest and increased ultraviolet radiation exposure in certain areas, some poison frogs remained and continued to call from branches that had lower ultraviolet radiation than in surrounding areas. Even so, they were exposed to nearly ten times higher radiation than frogs in the areas not disturbed by the storm.
"These frogs chose to remain in an extremely altered habitat, one that was likely to cause damage to them in the future," Clark-Ota shares. "This shows that if conditions dramatically switch, these frogs may not be able to appropriately adjust to the changes, which might harm later generations. Studies like this can help the scientific community predict how amphibians may respond to future conditions in an effort to preserve and protect them."
Clark-Ota spent ample time in the Behavioral Ecology Lab while at Pepperdine. She credits that experience as formative in growing from a student who absorbed knowledge to a researcher who generates new knowledge.
"I had the opportunity to work with a variety of reptiles and amphibians, complete fieldwork in California and Central America, and do outreach with local schools," Clark-Ota says. "I feel like that really built a deep passion for this kind of work and prepared me well for grad school."
Clark-Ota recently received an NSF grant and is currently in a PhD program in ecology at Michigan State University. The Behavioral Ecology Research Laboratory is an undergraduate research group based at Pepperdine University, engaging in field work and laboratory research to promote conservation of the local Santa Monica Mountain streams. They primarily study the behavior of native amphibians and reptiles, most notably the California newt (Taricha torosa).
To learn more about the Behavioral Ecology Research Laboratory, visit their website. To read "A natural experiment identifies an impending ecological trap for a neotropical amphibian in response to extreme weather events," visit the Ecology and Evolution digital publication.