Seaver College to Host Human-Centered AI Conference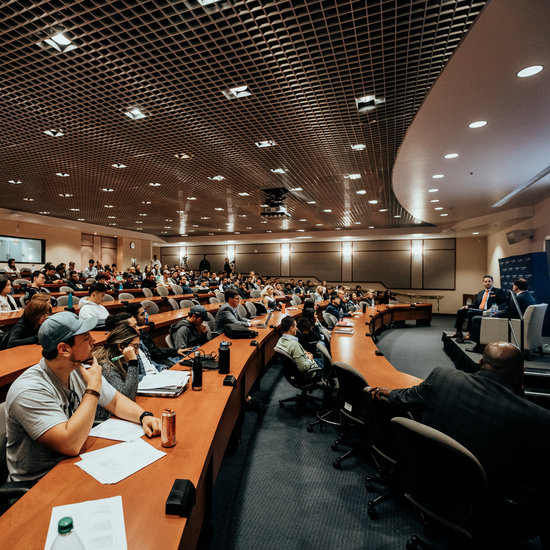 On Tuesday, September 26, Seaver College will host the Human-Centered AI conference, which brings together experts to discuss how artificial intelligence (AI) is affecting the fields of robotics, neuroscience, and ethics.
"The world around us is changing rapidly," says Fabien Scalzo, associate professor of computer science and director of the Keck Data Science Institute. "Students should be aware of how this powerful technology works. But they also need to understand the necessity of doing what is right and wielding these powerful tools for the betterment of society."
Operating with these goals in mind, Scalzo has organized a diverse set of AI researchers and practitioners to speak at the conference. The keynote address will be delivered by Charles Elachi, a former director of NASA and a Professor Emeritus at the California Institute of Technology, who led multiple rover missions exploring Mars. Following Elachi's address, conference speakers will analyze topics in entrepreneurship, medical imaging, business education, bioinformatics, and computational biology. Leading authorities in these fields, like Bryan Johnson, the CEO and founder of Blueprint, and Jeff Scheinrock, the assistant dean of the Anderson School of Management's applied management programs at the University of California, Los Angeles, will guide the discussions.
"We want to bring awareness to the different facets of AI," says Scalzo. "This conference promotes a variety of perspectives from different key players in their respective areas."
Scalzo, whose own research interests focus on computational modeling for the medical field, discussed AI's exponential growth in recent years, claiming that the more access the public has to AI's tools, the faster the technology will grow. As a result, he believes it's important to recognize and acknowledge the ethics regarding AI — the consequences and benefits that accompany this technological breakthrough.
Since 2021 Pepperdine University's Seaver College has been committed to examining the development of AI and how humans should interact with and implement such technology. With the College's establishment of the Keck Data Science Institute in 2022, Scalzo and his colleagues have been able to expand and deepen the discussion with events such as the Human-Centered AI conference.
To learn more about this event visit the Human-Centered AI Conference webpage.