Incoming First-Year Student Pursues Degree to Serve Children in Rural India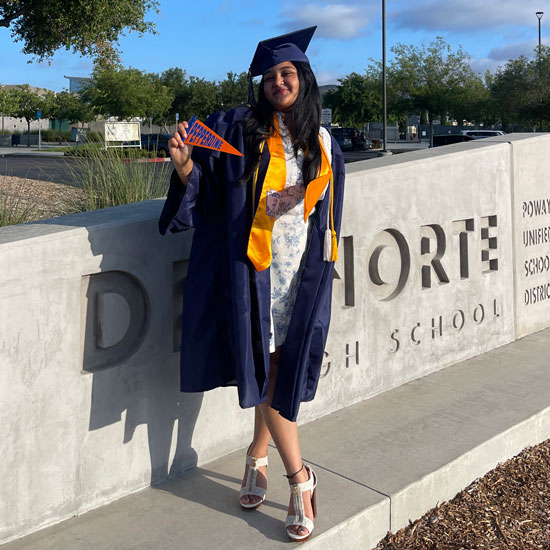 Last week, Pepperdine's Seaver College welcomed 783 first-year students to its Malibu campus for the beginning of the 2023–2024 academic year. One of the members of the new class is Anika Madan, an incoming biology major who hopes to use her degree to benefit the children she grew up with in rural India.
The daughter of Indian immigrants, Madan hails from San Diego, California, where she spent the majority of her adolescence. However, the incoming freshman's journey to Seaver College includes an extended period of time spent living abroad. Throughout sixth, seventh, and eighth grades, Madan and her family relocated to India in order to care for aging family members. While there, the aspiring healthcare practitioner witnessed the deteriorating educational and adolescent experience in rural parts of the nation.
Transplanted to a distant land 9,000 miles from home, Madan felt like an outsider and questioned where she belonged in her new surroundings. The sights from her school bus each day suggested that she was living in another world entirely—one where some children aren't granted access to education or medical care, where some children must work to help support their families, and where childhood looks different from the one Madan had experienced.
Impacted by these sights, Madan grew resolved to help her family's native country any way she could and committed herself to pursuing a college degree that would enable her to contribute to the medical field in meaningful ways.
"One of the most important things my parents instilled in me is the fact that an education is one of the most valuable things you can ever have," Madan says. "When we went to India, it was an eye-opening experience to recognize the privilege that my brother and I get to enjoy. So many children in that nation are not as fortunate as we are."
Compelled by her experience abroad, Madan helped raise more than $300,000 while in high school with the organization Ekal Vidyalaya, which cultivates one-teacher schools throughout India. These unique schools provide non-formal education to children ages six to 14 in the most remote and rural parts of the nation. The specific funds Madan helped raise contributed to the creation of a more sustainable transportation infrastructure and helped to promote health care options within these communities.
Fueled by her desire to live a life in service of others, Madan chose to attend Pepperdine University for its strong academic curriculum and a mission focused on purpose-driven leadership. As she transitions to Seaver College, the rising freshman still has her sights set on helping others abroad and plans to use the next four years as a stepping stone to reach her goals. She believes that Seaver College's Natural Science Division is the right place to prepare her for a future of hosting free medical care clinics in remote parts of India like the ones she passed through on her commute to middle school. While Madan's story is just one of 783 in Seaver College's newest cohort, her objectives represent the mission of each new student convening in Malibu—to learn and lead lives of purpose, service, and leadership.
"I want to reach a point in my life where I can return to India and set up charitable healthcare drives," says Madan. "Many organizations recruit physicians for this cause, but I want to be one of those individuals who is organizing these opportunities and granting children this fundamental aspect of healthcare."