Global Tides Undergraduate Research Journal Releases New Podcast Season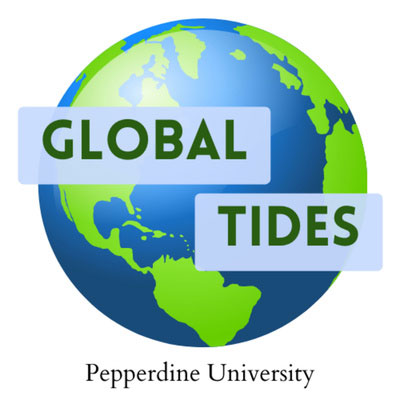 Seaver College's interdisciplinary, undergraduate research journal, Global Tides, recently premiered the fourth season of its original podcast on Spotify. Hosted by alumnae Lea Martinson ('23) and Katy Kulseth ('23), the latest installment explores research topics such as body positivity, marginalized groups in India, and climate change, while also celebrating the success of recent alumni.
"It was definitely a labor of love," says Martinson. "A lot went into producing this podcast, but I think that is what made it so rewarding. All of the students we interviewed come from very different backgrounds and statuses at Pepperdine. It was very rewarding to be able to highlight what they are doing and what they have accomplished."
Martinson and Kulseth, two international studies majors at Seaver College, were nominated and selected to host the fourth season of the Global Tides podcast by a faculty member. In taking on this venture, the two cohosts hoped to shine a light on scholarship and undergraduate work that wouldn't otherwise be recognized.
Throughout season four, Martinson and Kulseth interviewed nine members of the Pepperdine community in an effort to highlight the success of the liberal arts and social sciences on campus. While developing the project together, they emphasized identifying and featuring representatives from as many academic divisions as possible.
"We thought of broad disciplines first because we knew we wanted to cover many different areas of Pepperdine," explains Kulseth. "Global Tides focuses specifically on research in the fields of religion, philosophy, international studies, the social sciences, and the humanities, and our goal was to cover all of those disciplines."
With this goal in mind, Martinson and Kulseth compiled a guest list that featured two current students (rising seniors Jessica Odishoo and Lauren Chivers), one faculty member (Karie Cross Riddle, assistant professor of Political Science), and five Seaver College alumni (Emma Sullivan ('23), Charlotte Davis ('23), Carter Lentz ('23), Kylie Jones ('22), Joey Gasperi ('21), and Reagan Shane ('21)).
Working with this cast, the two cohosts developed five 30-minute episodes regarding the vast research repertoire and professional development opportunities that Seaver College provides its student body.
"I hope younger students at Pepperdine listen to this podcast and become aware of the opportunities that exist for them," says Martinson. "Research as an undergraduate can feel daunting. Our timelines are strict, and we have limited resources. Still, much can be done. Everyone at Pepperdine, especially the professors, are so excited to help students get started."
The Global Tides research journal originated in 2007 with the intent of publishing the finest undergraduate writing at Pepperdine University. Since its genesis, the journal has produced 17 unique editions, all of which have been edited by Seaver College students and faculty sponsors. In 2020, Global Tides expanded to include a podcast, which further highlights the scholarly opportunities available to undergraduates at Pepperdine.
"We learned so much producing these episodes," says Kulseth. "Every episode we released focused on broadening the listeners' minds, changing perspectives, and pushing people to learn about something new."
Listen to season four of the Global Tides podcast on Spotify or the journal's website.