Christopher Parkening Honored with Lifetime Achievement Award at Los Angeles Classical Guitar Festival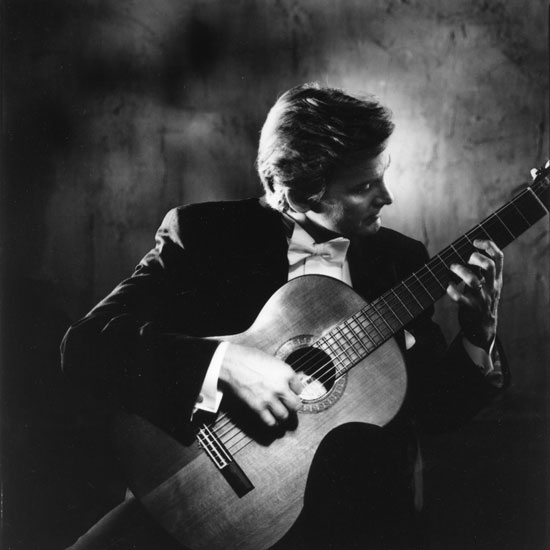 Christopher Parkening, Distinguished Professor of Music at Seaver College and chair of Pepperdine University's guitar program, was recently awarded the Los Angeles Guitar Festival's Lifetime Achievement Award for his enduring contributions to the world of classical guitar.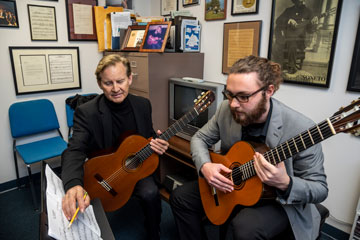 "I hope my career in music will be an example to others, especially those pursuing a career as a concert classical guitarist and recording artist," says Parkening. "I am hoping that, because of the many albums I have released, listeners are positively affected and have a greater appreciation for the classical guitar and its beautiful sound."
Parkening began playing the guitar at age 11, and by his midteens, he was performing in local concerts. Trained by famed Spanish guitarist Andrés Segovia, Parkening developed a prolific career as a classical guitarist throughout the 1970s, releasing a series of six albums while also playing numerous international concert tours and making several TV appearances. During this decade, Parkening also earned his first GRAMMY nomination for Classical Album of the Year in 1977. Despite so much success at a young age, the California native stepped away from the limelight and retired to Montana at the age of 30.
Four years after retiring, the guitarist found himself bored and discontent. Inspired by the preaching of John McArthur, Parkening devoted his life to God, moved back to California, and began playing the guitar again. During the 1980s, he produced six more albums and resumed touring. Beyond these accomplishments, Parkening earned his second GRAMMY nomination for Best Classical Album in 1986. This productive and rewarding fervor continued on throughout the rest of Parkening's career, which lasted until 2012. In total, the guitarist produced 26 albums of classical guitar music.
"I cannot overstate the mark Christopher Parkening has and continues to make on the classical guitar world," says Tavi Jinariu, director of the Los Angeles Guitar Festival and a former student of Parkening's. "His live concerts and his recordings have impacted millions of people around the world and inspired generations upon generations of classical guitarists. We may forget the specific notes that Christopher Parkening has played and recorded, but we will never forget the way he has made us feel."
Parkening became the chair of Pepperdine University's classical guitar program in 2002. As a faculty member, he mentors young guitarists as they fine tune their music, technique, and pursuit of excellence.
"I suggest to my students that they pursue a commitment to personal excellence rather than success, based on their own God-given potential," says Parkening. "Success and excellence are often competing ideals. Being successful does not necessarily mean you will be excellent, and being excellent does not necessarily mean you will be successful. Success is attaining or achieving cultural goals, which elevate one's importance in the society in which he lives. Excellence is the pursuit of quality in one's work and effort, whether the culture recognizes it or not."
Beyond offering academic programming that has influenced and shaped Parkening's students for decades, Pepperdine has hosted the Parkening International Guitar Competition since 2006. At this event, some of the best classical guitarists in the world perform for the public over a period of three days seeking the $30,000 cash prize that awaits the winner. The next iteration of the Parkening International Guitar Competition will take place from May 28 to May 31, 2025.
"On my music stand at home, I have taped a note that reads,'Chris, what are you here for?'" Parkening explains. "Just as my touring guitar bears the scars of having been used to create music, I pray that my imperfect life will be an instrument in God's hands, for His purposes and His glory."