Seaver College Student Timothy Chen Presents Original Scientific Research at International Symposium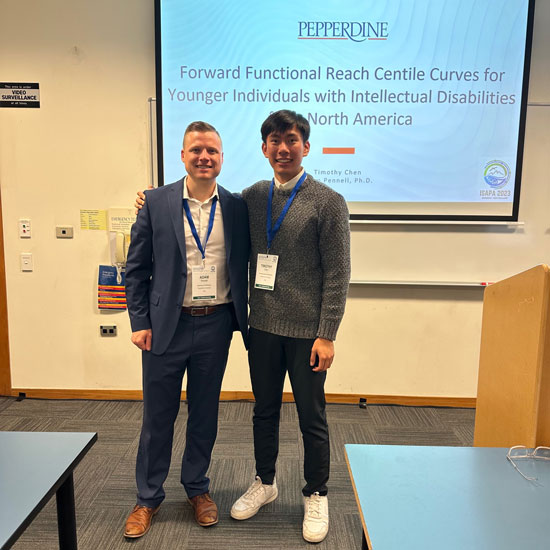 Timothy Chen, a rising junior at Seaver College, recently presented original research on centile curves that evaluate balance in younger individuals with intellectual disabilities at the International Symposium of Adapted Physical Activity (ISAPA) in Dunedin, New Zealand. ISAPA, an international research conference that highlights advancements made in adapted physical activity, is held every two years. In 2023, the conference featured representatives from 23 different countries.
"It was very exciting," says Chen, describing the experience. "This was my first formal international symposium. I met many professors and experts in the field, and I learned a lot. I am truly grateful for this opportunity, and I am especially thankful to the Keck Foundation for funding my research."
As a Keck Scholars Fellow, Chen received fully funded support from the Keck Foundation to conduct research alongside assistant professor of sports medicine Adam Pennell. Working together, Chen and Pennell analyzed extensive sets of health data made available by the Special Olympics and eventually recognized numerous measurements pertaining to balance.
Chen, a computer science major with a minor in data science, utilized his expertise with the statistical model GAMLSS to turn these measurements into centile charts. These charts could aid and assist clinicians in the future as they diagnose and treat their patients.
"I do a lot of work with balance and people with disabilities," says Pennell. "The purpose of Timothy's Keck Fellowship was to do something around data science. It was a match made in heaven. We had a huge data set, and we needed to run fancy analyses."
Initially, Chen was interested in the project because of the data analytics challenge it presented. However, once immersed in the work, the Seaver College student found the topic of his research to be both engaging and compelling.
"We worked with individuals with intellectual disabilities, which is a group of people that are typically not represented in these sorts of studies," says Chen. "This was an exciting and stimulating opportunity to combine my interests in data science with a real world project that can help people."
Chen is the direct beneficiary of Seaver College's Keck Institute for Data Science. Founded in 2021, the Keck Institute for Data Science has established an interdisciplinary and collaborative research environment that educates students about the capabilities of data and artificial intelligence. Through fellowships, scholarships, and funded curricula, the Keck Institute has created impactful opportunities for Seaver College students like Chen interested in studying data analysis and technology.
"I'm beyond words. I'm so proud of Timothy for everything he has done," says Pennell. "This has been a yearlong process, and I was hoping for this conference and this sort of outcome from the beginning. Timothy has been a stalwart and a solid student across time."
Learn more about the data science minor at Seaver College and the Keck Institute for Data Science at Pepperdine by visiting the institute's website.