Paul J. Contino Meets with Pope Francis at Catholic Imagination Conference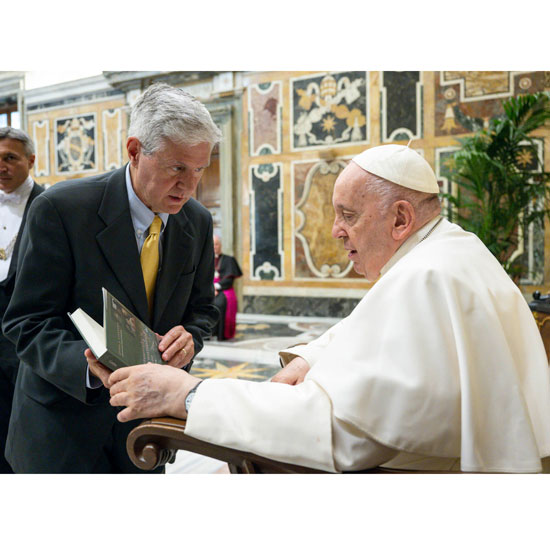 Paul J. Contino, Distinguished Professor of Great Books at Seaver College, was recently invited to participate in the "The Global Aesthetics of the Catholic Imagination" conference held in Rome, Italy. Contino joined several dozen other writers, novelists, poets, and filmmakers at the event, which featured an appearance and address from Pope Francis.
"I have an enormous feeling of gratitude to be involved with this conference," says Contino. "I'm grateful not only to have met Pope Francis, but also to have been with such a fine cohort of creative minds who care about keeping this light burning."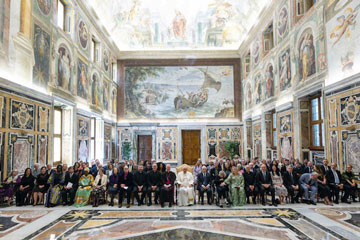 "The Global Aesthetics of the Catholic Imagination" is the latest in a series of conferences that have acknowledged and supported the relationship between the fine arts and faith. Those attending the event engaged in rich discussions concerning the religious and spiritual components of literature. Participants in the 2023 Rome conference included esteemed filmmaker Martin Scorsese and award-winning novelist Alice McDermott.
Contino, whose research specializes in Fyodor Dostoevsky, presented Pope Francis with his book Dostoevsky's Incarnational Realism: Finding Christ Among the Karamazovs, which was published in 2020. This study analyzes Dostoevsky's final novel, The Brothers Karamazov, from a theological perspective – specifically highlighting the Christ-like characters of Alyosha Fyodorovich Karamazov and Elder Zosima.
In his address at the conference, Pope Francis referenced Dostoevsky and The Brothers Karamazov to illustrate the powerful effects of art. Specifically, Francis claimed that, "Art is the fertile terrain where the 'polar oppositions' of reality can be expressed with a language that must be creative, flexible and capable of serving as a vehicle for powerful messages and visions." And he went on to remind the gathered writers that their "work has a consequence on the spiritual imagination of the people of our time, especially concerning the figure of Christ."
Throughout his career, Contino has analyzed the intersection of religion and art as an educator, writer, and editor. Beyond his three published books and numerous journal articles, he has served as Managing Editor editor of Religion and Literature (Notre Dame) and Co-editor of Christianity and Literature (Pepperdine University).
"Persons evoke Jesus because Jesus was a person," says Contino. "We see in other people, by analogy, the face of Christ. This opens up a lot for literary artists, who bring this to light in their work. At the conference, we hosted writers from Nigeria, India, Portugal, Poland, Ireland, and the United States. There was a whole international array of people, which was inspiring to see."
Contino has served on the organizing committee of the Catholic Imagination conference since its genesis in 2013. He and his colleagues look forward to the next event, to be held in the fall of 2024 at the University of Notre Dame.