Seaver College AMA Club Succeeds at International Conference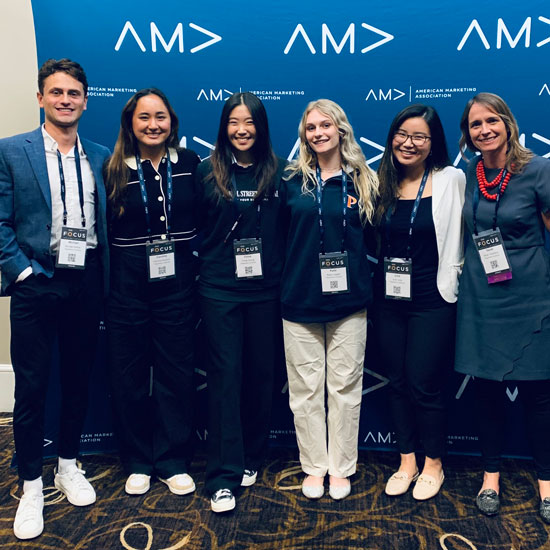 Five Seaver College students – Michael Kadlick, Caroline Hooshim, Kaitlyn Luetgert, Julia Jung, and Chloe Chung – recently competed in a host of competitions at the international American Marketing Association (AMA) conference in New Orleans. Here, students earned a series of honors while representing Pepperdine University for the first time at an AMA event.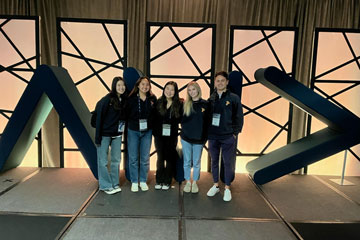 "Pepperdine students are over achievers," says Sarah Fischbach, an associate professor of Integrated Marketing Communication at Seaver College and the faculty advisor to the campus AMA club. "I'm really proud of our students for showing up to this international event, stepping up, and competing."
This year, the AMA conference hosted over 1,300 students from universities around the world. Undergraduates participated in case studies, problem solving sessions, and networking opportunities in order to expand their depth and breadth of marketing knowledge.
Seaver College's AMA club specifically competed in the Pitch Perfect, Marketing Week, MarketPlace simulation, Marketing Research/Strategy simulation, and the Marketing Strategy competitions. Advancing through two rounds to prove their knowledge, Pepperdine representatives Hooshim and Kadlick earned fourth place in the Marketing Strategy competition. As a team, Seaver's club received honorable mention in the Marketing Week competition.
Beyond competing and networking with peers and professionals, Fischbach expressed that the AMA conference served as an opportunity for students to gain added confidence. By preparing, participating in, and finding success in this event, Seaver College's five representatives received the opportunity to grow in both poise and composure in an environment outside of academics.
Pepperdine University's AMA club supports and nurtures 25 different undergraduates throughout the academic year. The club originally began in 2021 and, in recent years, students have begun to look for opportunities to affect the local community and participate in collegiate competitions.
Visit the Seaver College AMA website in order to learn more about this organization.