Joshua Pitney's Film Infinite Nominated at International Christian Film Festival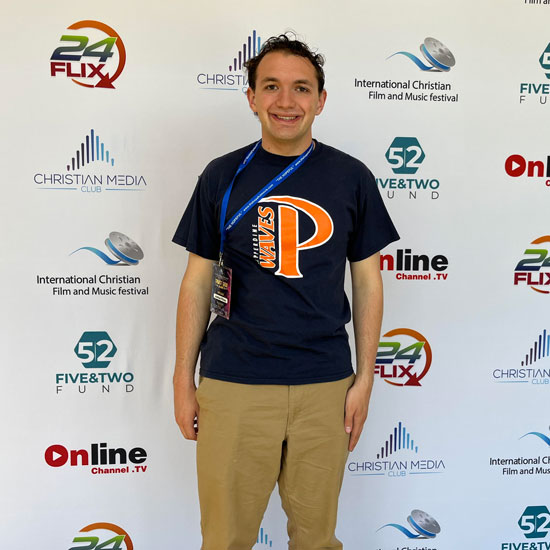 Joshua Pitney, a rising Seaver College junior, recently attended the International Christian Film Festival (ICFF), where his short picture, Infinite, was nominated for the Most Inspirational Short Film.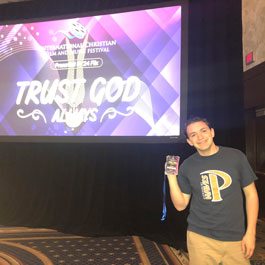 "It was truly humbling to have Infinite be nominated for Most Inspirational Short Film and to see its messages of love and acceptance resonate with those who saw it," says Pitney. "It was humbling to help spread autism acceptance with this film."
Infinite tells the story of Charlie, an autistic college student, who must present a speech before his class. Fearful of public speaking – especially in front of Casey, the school bully – Charlie must gain the courage needed to assert himself before others.
"I myself am autistic, and I have learned to accept myself for who I am and embrace my differences," explains Pitney. "Learning to stand up for myself was a major part of the inspiration behind this work."
Prior to being nominated in ICFF, Infinite won a total of five awards at the Christian Online Film Festival (COFF) including Best Student Film.
Pitney, a Screen Arts major at Seaver College, discovered his love of movies in 2018, when he watched Stanley Kubrick's 2001: A Space Odyssey. Awed by Kubrick's visuals and use of practical effects, the young filmmaker discovered the power of cinema. From this starting point, Pitney consumed other classic movies and became inspired to try his hand at crafting complex, transformative narratives.
Thus far in his career, Pitney has written and directed two short films (The Best Gift and Infinite). Currently, he is mulling over an idea for a short musical concerning autism advocacy, which he plans to write soon. Pitney hopes to foster a career as a writer/director/and actor in the entertainment industry.
"I seek to create media that spreads autism acceptance, Christian themes, even environmental awareness," he says. "I just want to use the power of cinema to make this world a more caring and loving place."