Senior Spotlight: Naya Edwards – Advocacy and Curiosity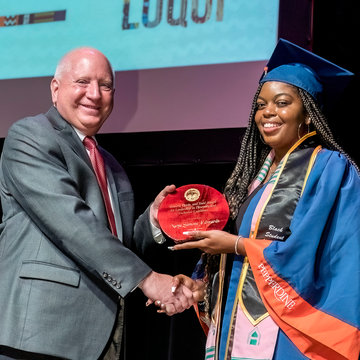 Naya Edwards, a member of Seaver College's 2023 graduating class, was honored with the Bowers, Davis, and Todd Award for Leadership in Diversity and Inclusive Excellence last week at Pepperdine University's Loqui celebration.
"To be recognized for this leadership and diversity award is pretty amazing. I'm super grateful for the opportunity to receive such an honor," says Edwards. "It was quite a surprise to me… I never realize how active I am until someone either stops and tells me I'm doing too much or I win an award like this."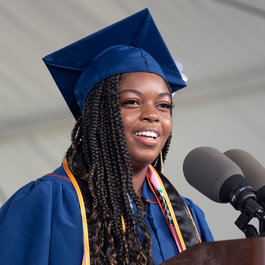 A sports medicine and Hispanic studies double major, Edwards was driven to make the most of her four years at Pepperdine. This resolve pushed the Houston, Texas native to join the Black Student Association (BSA) during her freshman year. Within this organization, Edwards aptitude to lead became evident.
"When I first came to Pepperdine, I was swept up by Olivia Robinson ('20), who was the president of BSA at the time," explains Edwards. "Olivia told me, 'I think you're going to be the next BSA president,'... and she took me in as a mentee and as a sister. The more I learned about how Pepperdine worked as an institution and how the student circle operated, I felt as though people wanted to do things but lacked the resources or the knowledge to get involved. I took it upon myself to figure it out."
With a strong and encouraging support system behind her, Edwards grew her network on campus, becoming an integral part of several clubs and organizations. By graduation, she had served as the president of BSA, financial secretary and historian for the Tau Lambda chapter of the Alpha Kappa Alpha Sorority, Inc., and as a resident advisor for first-year students. Edwards used her varied roles to exercise her voice and advocate on behalf of fellow students.
"I really enjoy being in leadership," she says. " I enjoy serving the people around me and being an advocate for others. I don't feel as though you need titles or positions to affect change."
This mission to help and advocate on behalf of those around her pushed Edwards to explore different means of outreach. As an intern working with the Intercultural Affairs (ICA) team at Pepperdine, she launched and managed social media campaigns that supported people of color. Specifically, she helped promote the Colored Women in STEM and What's Hair Got To Do With It campaigns.
On top of these opportunities, Edwards was selected to serve as the student speaker at the class of 2023's commencement ceremony. Here, she reflected on the peaks and valleys of the past four years, calling on her classmates to, "be fully present in what IS instead of worrying about what should be." The encouraging thoughts she shared served as an exclamation mark at the end of her prolific tenure as a student ambassador.
All of these qualifications, leadership roles, and advocacy efforts combined in earning Edwards her position as an Bowers, Davis, and Todd awardee. Yet, what lies behind each of these endeavors is an undeniable sense of curiosity and courage.
"The world is actually your oyster. The sky is the limit," shares Edwards. "You don't know anything existing between the land and the sky unless you go looking for it."