Pepperdine University Mourns the Passing of Seaver College Professor Emeritus V. Seshan
Pepperdine University is saddened to announce the passing of Seaver College Professor Emeritus V. Seshan, who died Friday, May 19, at the age of 84.
Seshan began his career at Seaver College in 1987, working as a faculty member within the Business Administration Division. An innovative and dedicated educator, he is credited with revolutionizing the business capstone course, Business Policy, Strategy, and Ethics, during his 27-year career at the University. Specifically, Seshan is known for elevating the course's content and rigor to that of a graduate-level program, requiring students to produce 2,000-page reports.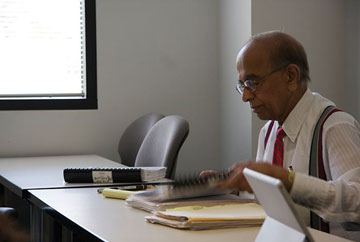 This pedagogical focus on research and writing, coupled with his intentionality and quick-witted nature, established Seshan as a renowned professor on campus. Known for his dedication to his students, his leadership and influence in the classroom earned him the inaugural Harriet and Charles Luckman Distinguished Teaching Fellowship Award for Teaching Excellence. It is estimated that during his career at Pepperdine, Seshan taught between 17,000 and 18,000 students.
"Dr. Seshan was one of the most brilliant people I have ever known. I was privileged to be one of the first students to have him as a professor at Seaver College," says Pepperdine's senior vice chancellor Hung Le ('87, MA '03). "He seemed to know something about everything that we brought up. He pushed us to do more and learn more deeply than we thought we could. He asked tough questions that challenged our assumptions and called us to defend our positions with thoughtful and clear facts and arguments. He cared for us deeply beyond our time in the classroom. He treated us with respect and honor and made us feel like we mattered. I am so very grateful for this wonderful teacher, mentor, and friend who made my life so much more abundant."
Prior to working in higher education, Professor Seshan was a successful senior executive for a number of Fortune 10 corporations. Serving as a strategic analyst, research and development engineer, marketing executive, and senior planning consultant, he built a strong interdisciplinary resume for himself at companies such as IBM, DuPoint, Olin, and ARCO.
These experiences, along with a master's degree in chemical engineering and statistics from the University of Louisville and a PhD in chemical engineering and operations research from Lehigh University, helped to make Seshan a dynamic and valued educator.
Before joining the Seaver College faculty, Seshan worked as a professor at numerous universities and colleges throughout the United States including the University of California, Riverside; the American Graduate School of International Management; Western Connecticut State College; California Lutheran University; and the University of Southern California. This wide array of teaching experiences informed Professor Seshan's educational philosophy and shaped him into the student-centric educator that he became.
"Seshan was a unique individual who the Business Division was lucky to have as a member of our faculty for more than 27 years," says Dean Baim, professor of economics and finance at Seaver College. "His legacy is the many students he influenced directly as well as the rigorous capstone course for which he set the standards—ones that current faculty still follow."
At Pepperdine University, he immersed his undergraduates in experiential learning. Each year Seshan mentored a group of students who eventually presented at the Southern California Conferences for Undergraduate Research. Further, he advanced multiculturalism on campus, launching the Pepperdine Asia Business Tour Program, which created opportunities for Seaver College students to study Japanese and Chinese management practices abroad.
"Seshan was indefatigable," says Connie James, professor of management at Seaver College and a close colleague of Seshan's. "He was legendary. Seshan possessed such a deep love for our students and for our program. He mentored me as a junior faculty member. Eventually, I became his boss as a divisional dean, but even then he was my mentor. I can't tell you enough great things about this man."
Originally born in Kottayam, India, Seshan immigrated to the United States after receiving a bachelor's degree in chemical engineering and administration from the University of Bombay. Upon coming to America, he led a life of service-oriented leadership as both a business professional and educator. In addition to his other pursuits, Seshan was actively involved in the Irvine Rotary Club youth programs and served as director of Vocational Services for many years.
Seshan is survived by his wife, Rosalie Seshan; his daughter, former Seaver College adjunct faculty of sociology Sheila Steinberg; his son-in-law, Steven Steinberg; and his grandson, Joshua Steinberg.

Former students, colleagues, and friends are invited to offer remembrances of Professor Seshan on the Dr. V. Seshan tribute website. A commemoration event for the Pepperdine community will be planned for the fall.