Seven Seaver College Students Earn Honors at 2023 DECA Contest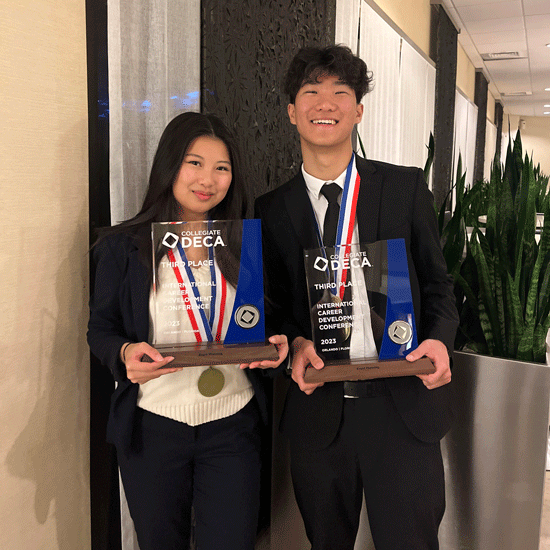 Seven Seaver College students – Matthew Baer, Abigail Ballhagen, Diana Flores, Nitika Kumar, Stacey Lin, Zedekyah Teh, and Aaron Yang – recently represented Pepperdine University at 2023's Collegiate Distributive Education Clubs of America (DECA) Competition, earning a host of honors throughout the national marketing event.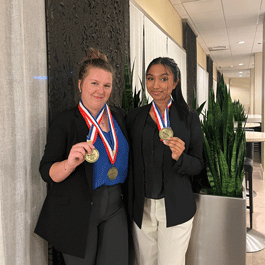 "I'm so proud of this group," says Alyssa Ong, an assistant professor of accounting at Seaver College and the faculty sponsor for the student DECA club. "I think their success speaks to how much effort they have put into this throughout the semester. They represented Pepperdine so well this year."
Competing in a wide variety of events that DECA sponsors, each of the Seaver College representatives earned an award at this year's conference. Baer and Teh paired together to nab third place in the Financial Statement Analysis contest, and Lin and Yang also performed well as a duo, notching another third place finish in the Event Planning competition. Ballhagen (Emerging Technology Marketing and International Marketing) Kumar (International Marketing), and Flores (Restaurant and Food Service Management) each finished within the top ten in their respective events.
Overall, DECA hosted 25 different events at this year's conference and received participation from over 1,200 college students. By engaging in such a large competition, Seaver's representatives extended their learning outside the classroom and grew their confidence in the process.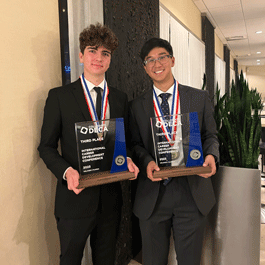 "DECA allows students to improve on topics that they learned in class," explains Ong. "I've seen our students evolve in the process of preparing for these contests… Part of DECA is giving students the opportunity to overcome their fear of public speaking.
Seaver College's DECA club was established in 2019, and it has grown to include 20 participants. At last year's DECA contest, the team brought home four awards from the competition. This year's improvement on that number illustrates the club's recent progress. Visit Pepperdine DECA's website to learn more about this on-campus club.