Seaver College Honors Three Impact Award Winners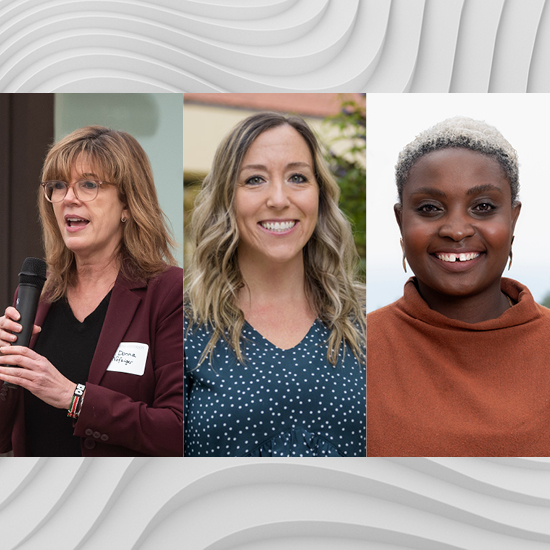 Three Seaver College community members – Donna Nofziger, professor of Biology, Abi Smith, assistant instructor of Teaching of Debate, and Sharon Wakio, assistant director of Intercultural Affairs for international student engagement – were recently honored with the Impact Award for Outstanding Service to students. This award recognizes community members who mentor, serve, and advise students in an important and impactful manner at Seaver College.
Donna Nofziger: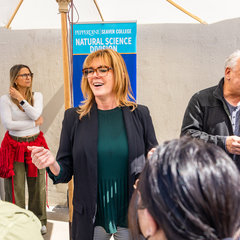 As a professor of Biology, Donna Nofziger's goal is to make each of her students feel seen, heard, and known. In the process, she encourages them to use their God-given abilities to serve the world around them. By instructing her courses with this mindset, Nofziger educates her undergraduates in a manner that engages their whole personhood.
"Donna will drop anything she is doing to be there for a student," says one colleague while describing Nofziger. "Dr. Nofziger is creative and wants her students to do their best which makes the community better as a whole," says another. Strong endorsements similar to these helped Nofziger earn the Impact Award.
Nofziger reflected,"It means everything. It is an incredible honor," she says. "I am so grateful that I have a job that gives me so much meaning. Being able to work with, mentor, and teach students makes it a joy to come to work each day. Being recognized for doing what I love and what gives my job meaning is a true honor."
Abi Smith:
Abi Smith serves as an assistant instructor of teaching of debate and the director of forensics at Seaver College. Throughout her courses and extracurricular campus activities, she empowers her students by challenging them to recognize their value.
Throughout the selection process, students described Smith as a "leader," a "never-ending well of kindness and wisdom," and one claimed,"no one has believed in me in such a way as Professor Smith has done." Ultimately, it was kind words such as these that meant the most to Smith upon receiving the award.
"The award itself is a lovely gesture and I've really appreciated the affirmations from the administration and my colleagues. But what means the most are the words of the students who nominated me," she says. "Hearing their stories of feeling seen, valued, and empowered is the best gift that any educator could ask for, and it is humbling. My students inspire me, motivate me, and challenge me every day. They enrich my life. So to hear that they feel enriched by me in return is deeply meaningful to me."
Sharon Wakio: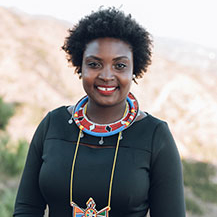 Sharon Wakio works as the assistant director of Intercultural Affairs for international student engagement. In this role, Wakio is tasked with cultivating a community that provides international students with a sense of belonging and support. Drawing on her personal experience as an international student from Kenya, she creates a space where students feel welcomed, valued and appreciated.
"Her hands and feet could not more beautifully represent the hands and feet of God, being present in the lives of our students and community at key moments in their Pepperdine journey," shared one colleague regarding the impact Wakio has made in the midst of completing her job. Testimonies like this one have encouraged Wakio as she delivers service oriented leadership.
"First of all, it overwhelms me with so much joy," says Wakio. "This award to me, means that by God's grace, I am seen, my work and efforts are appreciated and that what I do matters and is meaningful even to those who witness it. It is a reminder that the fruits of what we do, show, even in seasons when we feel unseen. It means that I am where I need to be in this season, and I am grateful to God for the opportunity to serve in this community. It is truly encouraging."
…
The Impact Award was established to encourage faculty and staff members who reflect the teachings and servitude of Christ, acting out Pepperdine's motto of "Freely ye received, freely give" (Matthew 10:8). To learn more about the award and past recipients visit the Impact Award website.