Senior Spotlight: Lisa Zaar – Tennis and Gratitude
In 2019, Lisa Zaar hopped aboard an airplane in her hometown of Stockholm, Sweden and flew 5,527 miles across the Atlantic Ocean and the continent of North America to enroll at Pepperdine University's Seaver College.
Guiding this international move was one thing – tennis. With hopes of improving both her game and odds of playing professionally, Zaar made the decision to relocate and compete for the Waves in Malibu. Here, she imagined life would consist of sun, waves, and plenty of court time to refine the physical nature of her game. What she found instead was a four year experience that altered her outlook on not just tennis but life.
"There is so much more to life," says Zaar. "I was stressing a lot about tennis before coming here. Winning. Losing. Playing bad or well. School.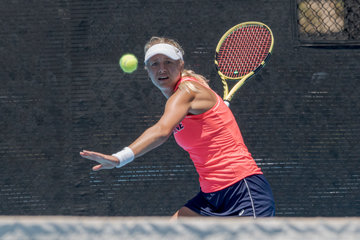 Grades. I stressed about things that I realize now don't really matter. I've become more relationship oriented. I've realized that the people around you are more important than the things you have or the things you do."
Zaar's journey to this revelation began when she was five years old, playing tennis with her brother. What started as merely a fun sibling rivalry quickly blossomed into a serious passion for the young Swede. Soon enough, Zaar was enjoying tennis so much that she gave up her other two sports (golf and soccer) to train at the game full time.
"I enjoyed playing an individual sport," she explains. "It was only myself that I could trust and blame…If you mess up on the court, you don't feel bad for anyone else. You did that to yourself."
Given this individualistic drive and a burst of natural athleticism, Zaar acquired tennis success at a young age. She would go on to play a full competitive schedule as an up and coming junior, often spending as many as six weeks away from home at different tournaments. This time commitment allowed Zaar to carve out a name for herself both at home and abroad.
In 2018, she won the U18 Swedish doubles championship and was the runner up in singles play. Strong finishes such as these elevated the budding tennis star's international ranking, boosting her within the top 1,000 players of the professional women's tennis circuit. College coaches from the U.S. began recruiting Zaar – who, up until that point, had not considered playing at the intercollegiate level. One of these coaches was Pepperdine's Per Nilsson, a fellow Swede.
In the ensuing months, Zaar would whittle her short list of schools down to three – Alabama, Ole Miss, and Pepperdine. After recruiting trips throughout the states, she was ready to commit to playing for a college tennis program.
"To improve my tennis, I knew the coaches would play a huge role," Zaar says. "I felt trust in the program at Pepperdine. I thought it would be a great place for me to improve on the court with tennis, but also off the court personally."
Thus, Zaar boarded the plane bound for the golden coast, and immediately upon landing in California, she began to affect the Waves tennis squad. During her freshman season, Zaar went 7-2 in singles, and broke into the top 150 players in the Intercollegiate Tennis Associations (ITA)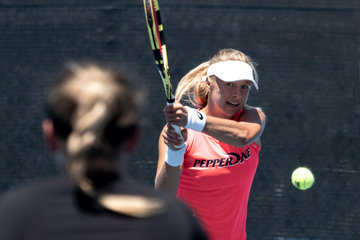 rankings. From there, she took another leap during her sophomore year, climbing into the ITA's top 75 and ripping off 19 straight wins in singles play.
This upward trend continued for Zaar in her junior season. In 2022, she climbed to number 17 in the ITA singles rankings, earned West Coast Conference (WCC) first team singles honors, and notched a 38-11 record throughout the season. These 38 victories placed her fourth on the overall single-season wins list at Pepperdine and launched her toward her senior year with confidence.
So much confidence, in fact, that Zaar competed professionally throughout the fall of 2022. In total, she played in five different challenger events scattered around the west coast, winning at least one match each tournament. These results foreshadow Zaar's next step beyond Seaver College.
"I want to live on my tennis," reveals Zaar. "I want the sport to be my job, and I want to be able to play the tournaments, go to the big grand slams, and have that as my everyday life."
Four years after moving halfway across the globe, Zaar will cross the stage at Pepperdine's Alumni park and graduate from Seaver College. Beyond completing a four-year degree in International Studies, she has accomplished her goal of preparing well to play tennis professionally. In the process, however, Zaar has gathered the tools necessary to succeed in life beyond the court.
"I've been discovering during my time at Pepperdine what it means to be more grateful," she says. "I've learned to live in the moment and enjoy the small things in life."