Seaver College Honors First Generation College Students at Spring Banquet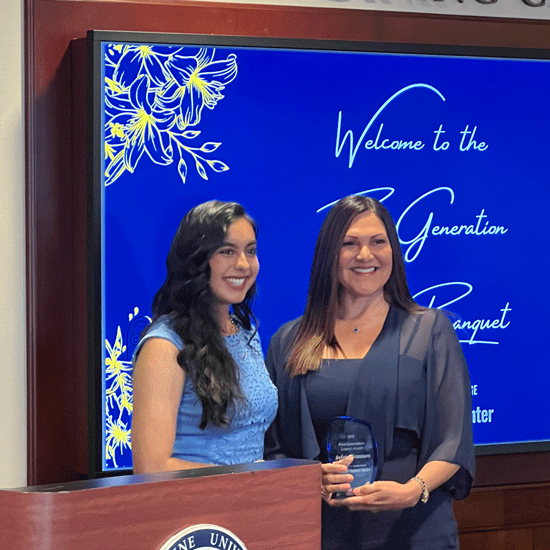 On Wednesday, April 5, 2023, Seaver College's Student Success Center and First-Wave Program hosted their second annual First Generation Spring Banquet, which celebrates and honors first generation college seniors, alumni, and supportive members of the first-gen community.
"I love being able to celebrate the success of our first-gen students." says Marissa Davis, who serves as director of Seaver College's Student Success Center and is a first-gen graduate herself. "I am familiar with the obstacles these students face. The fact that they have persisted through all the challenges college has – all the studying, working, and internships – but also navigating the college community; it's awesome to be able to celebrate this achievement with them."
During the banquet, a pair of individual awards were presented including the First-Gen Legacy Award and the First-Gen Trailblazer Award. These two honors highlight the accomplishments of an alumnus and a graduating senior.
More specifically, the First-Gen Legacy Award recognizes a distinguished first generation alumnus whose accomplishments serve as inspiration for Pepperdine's first-gen community. This year's recipient was Sylvia Franson, who graduated from Seaver College in 1987. Since then, Franson has risen through the ranks of NBCU's advertising department, where she retired as the Vice President of the West Coast Advertising Sales and Partnerships Department.
"Receiving this award is an incredible achievement and it means the world to me," says Franson. "It validates all the effort and time I put into my studies, and it inspires me to continue striving for excellence in everything I do. I hope that this award will serve as an inspiration to all those who come from similar backgrounds, reminding them that anything is possible with hard work, dedication, and perseverance."
The First-Gen Trailblazer Award honors a first-gen graduating senior who has demonstrated outstanding leadership, resilience, and drive at Seaver College. This year, Stephanie Abad, a Seaver College senior graduating with a psychology degree, was honored with this achievement. During her time at Pepperdine, Abad served as a First Wave Ambassador, a Spiritual Life Advisor, and as a team leader and intern for Jumpstart AmeriCorps.
"Throughout my college journey, I always wanted to help build a community that first-gen students like myself could lean on for support and guidance," expresses Abad. "I made it my goal to find and take advantage of any and all opportunities where I could make this happen. Through this, I have made the best connections with my peers which have consisted of mutual encouragement in an environment that is otherwise foreign to us. It is incredibly exciting to be honored with this award, and it has been such an honor serving as a mentor to my first-gen community."
Seaver College's graduating class of 2023 features 104 first-generation college students. Visit the First-Wave Program webpage in order to learn more about the University's commitment to supporting this unique population.