Seaver College Hosts Annual Research and Scholarly Works Symposium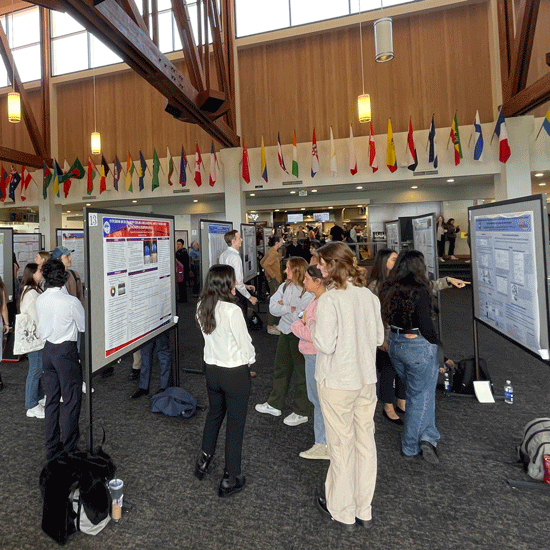 On Friday, March 24, Seaver College hosted its annual Research and Scholarly Achievement Symposium – where over 140 students presented 97 different pieces of academic and creative work. The event featured a variety of unique exhibitions including poster presentations, an art exhibit, and musical performances.
With an array of topics ranging from the health science field to abstract art pieces, Seaver College's symposium is interdisciplinary and inclusive in its nature. By allowing students to present both research and creative works, the conference enables a variety of unique and valued perspectives to be presented.
For instance, Perse Klopp, a Seaver College junior double majoring in Film and Art History, displayed a functional sculpture at the symposium. Her work was specifically designed to look like a chair, but it could be folded down to operate as a pushcart.
"I think there are many people who fundamentally misunderstand the disabled," says Klopp, explaining what inspired her invention. "So, people like myself, who have physical disabilities which are invisible to the naked eye, are often overlooked."
The sculpture, which Klopp constructed out of wood, allows the Seaver College junior to navigate the hills of campus in a comfortable fashion – at times pushing her backpack and purse as opposed to carrying them.
"I wanted to make an art piece that flamboyantly unveiled a message about living with a physical disability," Klopp expresses. "I'm so glad to be featured in this [symposium]. I'm really happy to be here."
Alongside creative pieces such as Klopp's, the event also highlighted pieces of academic scholarship, such as Matthew Weldon's research on Jenny De Mayer, a Russian missionary imprisoned throughout World War II.
"Jenny De Mayer wrote many letters while she was imprisoned in a gulag for practicing her faith openly," explains Weldon. "This project is about all the letters we transcribed in various ways."
Weldon, a Seaver College senior majoring in History, presented his research using an illustrative poster. He originally began working on the project because of his budding interest in Soviet History, which aligned with his advisor, Dr. Sharyl Corrado's, research emphasis.
"I've never done something like this before," says Weldon. "I'm optimistic, and it'll be nice to share my findings with everyone here."
The Seaver College Research and Scholarly Achievement Symposium, besides emphasizing scholarly and creative projects, gives students the opportunity to practice sharing their work orally. It has been an annual tradition at Pepperdine since 2006. This year's symposium marked the 17th consecutive event.