Joshua Elizondo Named 2022 Fostermorey Scholar of the Year
Joshua Elizondo, a Seaver College junior, recently received the 2022 Fostermorey Scholar of the Year Award from Fostermore – a coalition of entertainment companies, foundations, non-profits, businesses, and philanthropic organizations working for the betterment of the foster care system. In earning this honor, Elizondo is formally recognized for his resilient and enduring impact on the foster care community.
"It's very humbling, and it really does mean a lot," says Elizondo, concerning the achievement. "I'm very humbled that my peers have noticed the work that I've done over the last decade despite the fact that I've had some challenges facing the pandemic, balancing school, and navigating advocacy."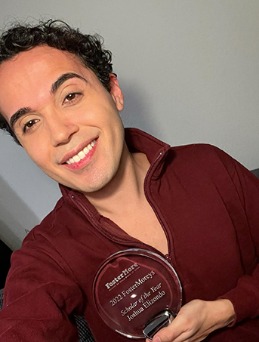 Elizondo boasts a resume filled with different outreach ventures. To name a few, the Seaver student serves as a board member for California Youth Connection, the California Community College Board of Governors, the LA County Board of Supervisors Youth Commission, and he works as the program assistant for Pepperdine's Horizon Scholars Foster Youth Program.
Within each of these positions, Elizondo is able to exercise his voice and advocate on behalf of the foster care community. In doing so, he hopes to ensure that foster youth in the Los Angeles area are well represented.
"I want everyone around me to succeed and be able to make a difference," explains Elizondo. "If I'm winning, you're winning, and we all need to be winning together. What really drives me is making that difference, and knowing that if one life is changed the world is a better place and I contributed to that."
This desire to make a difference stems from Elizondo's upbringing as a foster care child in Michigan. He claims that his positive experience within the foster care system spurred him toward his current role as an advocate. Elizondo specifically points toward his social workers and the Michigan Youth Opportunities Initiative as supportive and uplifting communities that empowered his life.
Following high school, Elizondo relocated to California to pursue an associates degree from Santa Monica College. Since this initial move, he has received, in total, 13 different associate degrees (11 AA's and two AS's), and he is currently working toward his bachelor's degree at Seaver, as an International Studies major with a minor in social work.
Looking forward, Elizondo will pursue a career in entertainment – an industry in which he already has experience as both an actor and musical performer. He hopes to continue advocating on behalf of the foster care community within this profession.
"I'm super excited to get back to the work I love and continue advocacy through entertainment media," he says. "While I've done a great job balancing school and advocating for change and foster care issues, I haven't been able to incorporate the entertainment part as much. That's something I'd like to do more of – entertainment and advocacy."
To learn more about Pepperdine's Horizon Scholar Foster Youth Program, which Elizondo has contributed to throughout his time on campus, please visit their webpage.