Pepperdine Waves Debate Program Earns Intercollegiate Honors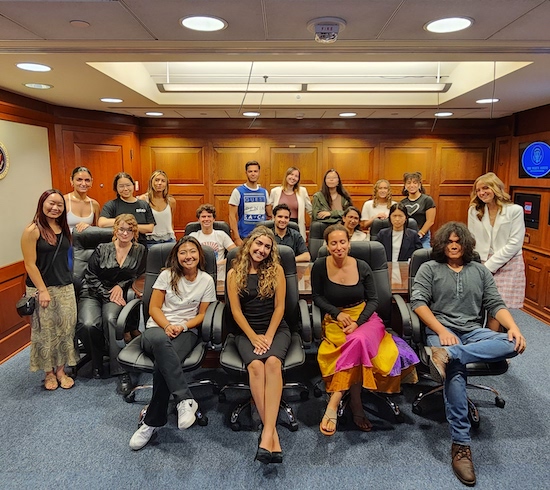 Seaver College's debate program recently participated in two intercollegiate events, placing among the top schools in both. At the University of California, Los Angeles' IV 2023 Tournament with more than 60 competitors from around the world, Pepperdine's British Parliamentary (BP) team advanced to the competition's novice finals, while at California Polytechnic State University, San Luis Obispo's Social Justice Debates, the Civic team took third place.
"The thing I'm most proud of with this group of students is how they function as a team," says Abi Smith, the debate program director and Communication Division faculty member. "At Pepperdine our students participate in various styles of debate and are successful in each. With these two tournaments in particular, our younger debaters found success because they were mentored by our older students, who are such great coaches."
Seaver College's debate program, which is officially known as Pepperdine Waves Debate, consists of five specific cohorts. Each of these individual sections—British Parliamentary, Civic, Let's Argue, Global, and On-Campus Programming—uses debate and rhetoric in a unique way, allowing students the chance to experience a broad range of argumentative formats.
The most widely recognized system of debate is British Parliamentary, in which participants receive the topic 15 minutes prior to the competition. Within those 15 minutes, they must prepare an argument to be delivered in front of their fellow competitors. Topics for these debates are global in nature, and the manner in which they are argued is highly formalized. Seaver College's British Parliamentary team was represented at the University of California, Los Angeles by students Chris Hamden and Ashleigh Weinstock (co-presidents of BP Debate), Christine Espinosa, Travis Feltz, Jenna Tao, and Adrielle Zindlero.
The Civic debate style is far more fluid than its predecessor. Within Civic competitions, students receive the topic months ahead of time and undergo intensive preparation to make their cases. These debates take place directly in front of the stakeholders involved in the specific issue. Students Leyla Pisirici (student director of debate), Christina Brennan (president of Civic Debate), Leilani Frailich, Anika Maden, and Emily White filled the Seaver College Civic roster for the California Polytechnic State University, San Luis Obispo debate.
While the particular guidelines of each format vary, Smith believes these dynamic and diverse styles are valuable for students to engage with.
"It's important for students to be able to effectively advocate for themselves and their communities," she says. "If you hop on social media or turn on the news, people's unwillingness to speak to each other across differences is evident. As a result, students are actually afraid to share their thoughts on specific subjects. I want Pepperdine students to feel like they can enter uncomfortable conversations, that they can hear things that make them uncomfortable, and that they can respond in a way that respects the value and humanity of another person."
The Pepperdine Waves Debate program began growing into its current form eight years ago when Smith took on the director's role. Students who participate are treated as "intellectual athletes" and are able to accrue scholarship funds in the process. Despite the venture's competitive format, Smith insists that no ideal debate student exists. Instead, the program encourages and welcomes anyone interested in learning more about the art of discourse.