Pepperdine University Hosts Faculty Conference Focused on the Importance of Virtue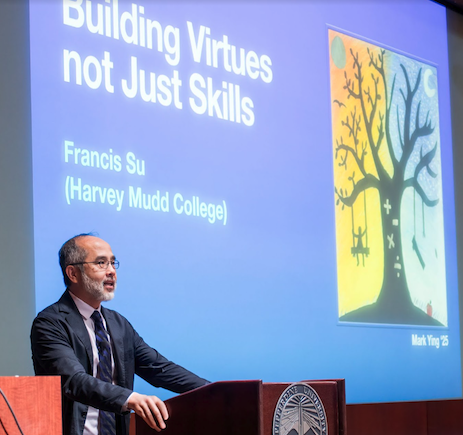 Last month, Pepperdine University hosted its annual faculty conference. This year, the conference focused on the theme "The Probability of Virtue" and featured keynote speaker Francis Su, the Benediktsson-Harwa Professor of Mathematics at Harvey Mudd College and author of the book Mathematics for Human Flourishing.
"We wanted to host an event that was worth making the effort to attend for our busy faculty members," said Jay Brewester, Pepperdine University's provost and one of the chief organizers of the function. "I believe we did that. The faculty have been effusive with praise regarding the conference."
Su's keynote address, "Building Virtues, Not Just Skills," explored how he integrates the virtues of beauty, play, and persistence in the teaching of math. He went on to explain how these three themes can and should be fostered in other academic disciplines. The morning breakout sessions were led by faculty experts and included a faculty research session, a panel discussion on teaching with Francis Su, a campus prayer walk, a community belonging circle, and a workshop on faculty well-being and productivity. The afternoon featured a seminar on artificial intelligence in education with a presentation by Mark Warschauer, professor of education and informatics at University of California, Irvine, and included a panel discussion featuring Pepperdine experts.
"At Pepperdine, we can rely on not the probability, nor the possibility, but the certainty of virtue, grounded in our Chrisitian values and commitment to academic excellence," remarked Jim Gash (JD '93), Pepperdine University's president, at the conclusion of the conference.
In addition to the programming, eight faculty members—Alyssa Ong, Gabriella Miramontes, Ahmed Taha, Virginia Green, Lisa Smith, and Katherine Frye—were awarded the Howard A. White Award for Teaching Excellence, and two faculty members—David Green and Edward Larson—were selected as recipients of the Stephen D. Davis Award for Scholarly Achievement. Conference attendees were also treated to a special preview of the Seaver College Fine Arts performance of The Music Man.
The Faculty Conference was organized by Brewster; Lila Carlsen, interim vice provost; Lee Kats, interim dean of Seaver College; Jennifer Smith, associate provost and associate professor of English, Seaver College; and Darren Good, associate professor of Applied Behavioral Science, Pepperdine Graziadio Business School. Carlsen, who chaired the conference committee, remarked, "I am grateful for the creativity of this group who put careful thought into curating a meaningful event around topics that will benefit our colleagues at all five schools."
More information about the conference is available here: Academic Conferences and Lectures | Pepperdine University. Information about faculty awards can be found here: Faculty Awards | Pepperdine University.