Three Seaver College Professors Earn Howard A. White Award for Teaching Excellence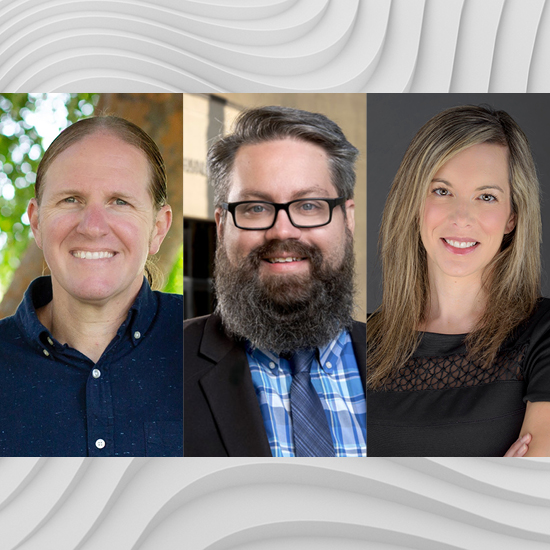 Three Seaver College professors (Tim Lucas, Brian Link, and Jennifer Harriger) were recently honored as Howard A. White Award recipients for their teaching excellence.
Tim Lucas:
Tim Lucas is a Professor of Mathematics at Seaver College. He teaches a wide variety of courses including Calculus I, II, and III, Biostatistics, Linear Algebra, and Differential Equations. Lucas is known to cultivate a supportive classroom setting where he challenges his students to think and solve problems independently.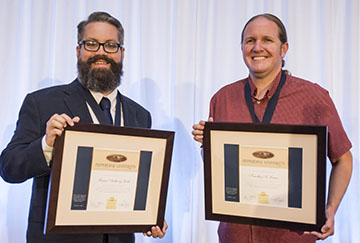 "My goal in the classroom is to engage students in the process of doing applied mathematics. This often involves building mathematical models, applying approximation techniques to solvecomplex problems, and analyzing the results in context," says Lucas. "I both try to challenge my students and provide enough support and encouragement so they can leave Pepperdine with confidence in their ability to apply critical thinking and problem solving skills to any new situation.
"It is an incredible honor to receive the Howard A. White award because I am surrounded by such incredible teachers at Seaver College who are equally deserving. Throughout my career I have been inspired and challenged by past award winners in Natural Science such as Don Hancock, Steve Davis, Jane Ganske and Kendra Killpatrick."
Brian Link:
Brian Link is an Assistant Professor of Teaching of Business Law at Seaver College. Specifically, he teaches a course in the Legal and Regulatory Environment of Business. In the midst of his instruction, Link seeks to create an environment that fosters a love of learning, while, in the process, developing students to be reflective thinkers. Ultimately, for Link, it is the fact students nominated him for the Howard A. White Award that honors him most.
"Knowing that students play such a decisive role in this award process is so exciting and humbling; they are the audience, witnesses, jury, and recipients of my teaching, so their nominations are the outstanding component of this award," Link says. "I'm so grateful to all of my students and alumni for taking the time, and for their kind words. It means the world to me. My students, past and present, constantly inspire me, and they propel me to aspire to do better and better. God bless them."
Similar to Lucas, Link is also inspired by his cohort of Business Division faculty members, whom he reports continue to instruct and refine his own ability as a professor.
"It's a high and wonderful calling to teach. And what better feeling is there than to be recognized for doing well in something that you love? It also means so much to me because I think it's indicative of the high-quality teaching at the Business Division. We are collegial and push each other forwards. So I share in this achievement with all of them, from whom I've learned (and continue to learn) so much. I'm grateful to work at a university that values and appreciates teaching as a vital component of community, purpose, service, and leadership."
Jennifer Harriger:
Jennifer Harriger is a Professor of Psychology at Seaver College. She teaches a variety of courses in the Social Sciences department including Child Clinical Psychology, Psychology of Gender, and Body Image and Eating Disorders. Harriger's research centers around weight stigmas prevalent in young children and disordered eating found within children, adolescents, undergraduates, and athletes.
In the classroom, the Professor of Psychology is known to be a compassionate educator who sets energizing expectations. These traits are encouraging to her students, as one undergraduate explains, "She shows empathy and genuine care while maintaining a rigorous class. I hope to become a professor like her one day."
Conclusion:
The Howard A. White Award is an annual honor named after Pepperdine University's fifth president, Howard A. White. This award seeks to recognize outstanding educators who are nominated by students and embody the institution's commitment to excellence.
*Jennifer Harriger was not present at the awards ceremony, and thus is not pictured with Link and Lucas above.