Pepperdine University Mourns the Passing of Four Seaver College Students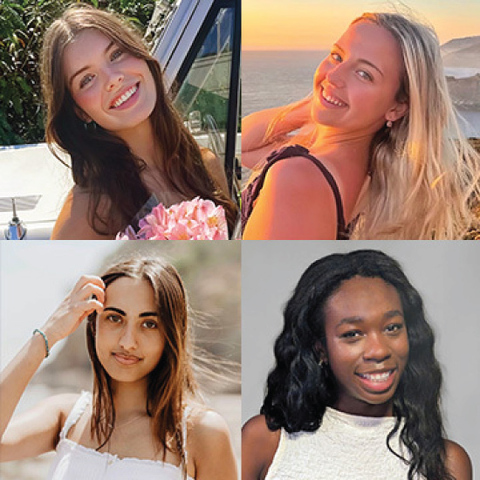 Pepperdine University is saddened to announce the passing of four Seaver College students—Niamh Rolston, Peyton Stewart, Asha Weir, and Deslyn Williams—who were tragically killed in a fatal car accident on Tuesday, October 17, 2023, along Pacific Coast Highway.
"No day is more devastating to a tightly knit university community than the day that forces us to come together in grief and sorrow," says Jim Gash ('JD 93), Pepperdine University's president. "As a parent, the loss of a child is an unimaginable tragedy. No words can appropriately convey the depth of my sympathy to the families who are living through a reality no parent would ever want to endure. You are not alone. Pepperdine stands with you as you traverse these challenging waters."
Seniors Rolston, Stewart, Weir, and Williams, all members of the Alpha Phi sorority, were set to graduate alongside the University's class of 2024 next spring and will receive posthumous degrees.
Rolston was a business administration major who planned to pursue an MBA in business analytics at the Pepperdine University Graziadio Business School. The daughter of Tracy and David Rolston, Niamh, a competitive gymnast in her youth, was born and raised in Los Angeles, California. She graduated from Oaks Christian High School, where she was a varsity cheerleader and pole vaulter on the track and field team. At Seaver College, Niamh was known as a kind, helpful, and joyful person. A member of Alpha Phi's Red Dress Gala committee, she was dedicated to serving others by infusing each situation with positivity. She is survived by her parents and her brother, Conor.
Stewart was an international business major at Seaver College. She was raised in Westwood, New Jersey by her parents, Carmela and Barry Stewart. Stewart graduated from the Academy of the Holy Angels in Demarest, New Jersey, and enrolled at Pepperdine in 2020. On campus, she was highly involved, serving as the vice president of finance for the Alpha Phi sorority while maintaining a part-time job in Seaver College's Career Center. Following graduation, Stewart looked forward to beginning a career in the tech industry. She is remembered as a selfless, thoughtful, and positive person. Stewart is survived by her parents and her sister, Kathleen.
Weir was an English writing and rhetoric major at Seaver College. Born in Belfast, Northern Ireland, to Vinita and Mark Weir, she grew up in Skippack Pennsylvania. After graduating from Perkiomen Valley High School in Collegeville, Pennsylvania, Weir enrolled at Pepperdine, where she became highly involved on campus. An orientation leader, member of the Indian Student Association, and active member of the Alpha Phi sorority, she selflessly served the Seaver college community with her emotional intelligence and positive spirit. Upon graduation, Weir planned to use her writing ability to make an encouraging and healing impact on others. She is survived by her parents and her brothers, Michael and Jamie.
Williams was a pre-med biology major at Seaver College born to parents Olive and Desmond Williams in Atlanta, Georgia. Williams graduated from St. Pius X Catholic High School prior to attending Pepperdine. As an undergraduate, she served as the vice president of the pre-veterinary club, the recruitment chair for the Alpha Phi sorority, and the recruitment counselor for the Panhellenic Club. A confident, determined, and energetic person, Williams possessed the ability to make others feel seen, heard, and valued. These abilities allowed her to cultivate a community of belonging at Pepperdine.
"This past week has been a great struggle for the entirety of the Pepperdine community. All corners of our campus have been affected by the loss of Niamh, Peyton, Asha, and Deslyn," says Lee Kats, interim dean of Seaver College. "We mourn with their families. We hurt in their absence. While little peace can be found in moments like these, we place our hope in God's uplifting power and redeeming grace, trusting he will bring healing and renewal."
On Sunday, October 22, Pepperdine University hosted a memorial service honoring the students at Firestone Fieldhouse on the Malibu campus. Family, friends, and the University community came together to remember the impact the students had on the campus community. Following powerful and emotional faculty and friend reflections, the students' family members shared their fondest memories of their loved ones and thanked the Pepperdine community for caring for them in a time of profound grief. Members of the Pepperdine Choir and Waves Worship team led attendees in song and praise; Dyron Daughrity, the William S. Banowsky Chair in Religion, offered a prayer of adoration; and Tim Spivey ('97, MS '00, MDiv '00), associate vice president for spiritual life, shared a homily. In his closing remarks and prayer, president Gash announced plans for a permanent tribute on Pepperdine's campus that would celebrate and honor the light that each of the four students brought to campus "for as long as Pepperdine is Pepperdine."
A memorial fund was established by the University to support the families, friends, and community members affected by this tragedy. The fund will continue to make an impact on future Waves with the hope of future memorials and scholarships honoring Rolston, Stewart, Weir, and Williams.