Seaver College Students Weinstock and Oldroyd Claim First Place in National Opera Contest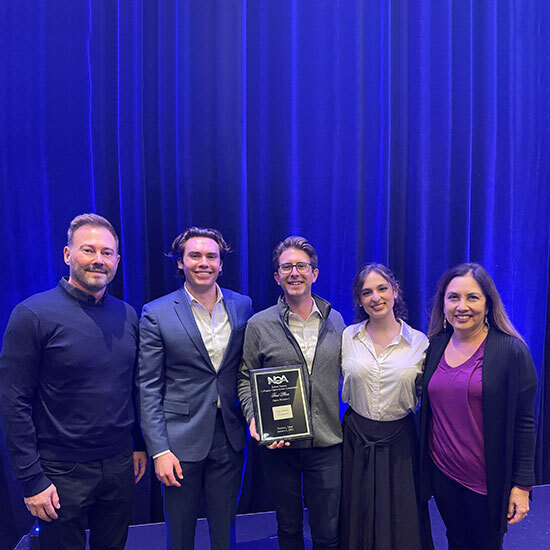 Seaver College students Britanny Weinstock and Luke Oldroyd were awarded first place in the Division 1 Robert Hansen Collegiate Opera Scenes Competitions – hosted by the National Opera Association Conference in Houston, Texas. Weinstock and Oldroyd performed a scene from Carlisle Floyd's Susannah. The pair were accompanied by their coach and Seaver College professor David Wilkinson.
"To me, winning first place felt very validating of the hard work I had put into not only the scene we performed, but my four years of work at Pepperdine," says Weinstock. "However, to me it wasn't even just about the award. To be able to perform that scene in front of an audience and move their hearts and stir their emotions was the real prize. To have people come up to me and tell me how moved they were by our performance, and how they got chills from it was incredibly gratifying."
Weinstock and Oldroyd originally worked on this specific scene from Susannah with Keith Colclough and Wilkinson in order to perform at the Heidelberg Summer Music Program in Germany. The pair invested two months of work into studying and dramatizing the action prior to showcasing their efforts in front of a international audience. Already, by that point, the Seaver students had a strong grasp on their performances.
"Keith and I began working with Brittany and Luke on this scene last summer in Germany. We performed the scene for a German audience at the end of the two-month summer session, and their presentation was already powerful then," explains Wilkinson. "It has only deepened since then. Luke and Brittany are superb singers who are actually singing far above their grade level. One of the judges in Houston mentioned this very thing to me and told me how impressed he was both by the vocalism and by the dramatic instinct the two displayed."
The Robert Hansen Collegiate Opera Scenes Competition is an annual event that recognizes artistic excellence in opera performances within college and university programs. During the 2023 contest, 21 different schools submitted performances for review, setting a record high. Weinstock and Oldroyd's audition tape earned them an opportunity to perform live in Houston as one of four finalist groups. Thus, the pair traveled to Texas knowing they had a chance to win the competition.
"When I performed Susannah that night, I found that the world around me faded away, and all that mattered was me, Luke, and the story we were trying to convey," says Weinstock, recounting the performance. "I think we got to that point that night where we allowed our emotions and intention to carry us through the scene and let the music flow through us. It was an electrifying experience, and winning first place was just the icing on the cake."
This national award represents a string of recent success Seaver College's fine arts department has recently experienced. Weinstock and Oldroyd's performance provides another exciting moment within Pepperdine's music department.
"Pepperdine vocal arts students continue to shine in all competitions they compete in," says Wilkinson. "We just swept NATS (National Association of Teachers of Singing), winning first prize in every category we entered. This speaks to the level of dedication of the students, the quality of the instruction, and the high expectations that are placed on these students and which they meet with alacrity."
Both Weinstock and Oldroyd will star as lead characters in the Flora L. Thornton Opera Program's production of H.M.S. Pinafore on February 23 and 25 in Smothers Theatre.