Three Seaver College Professors Research the Effects of Social Media on First-Time Mothers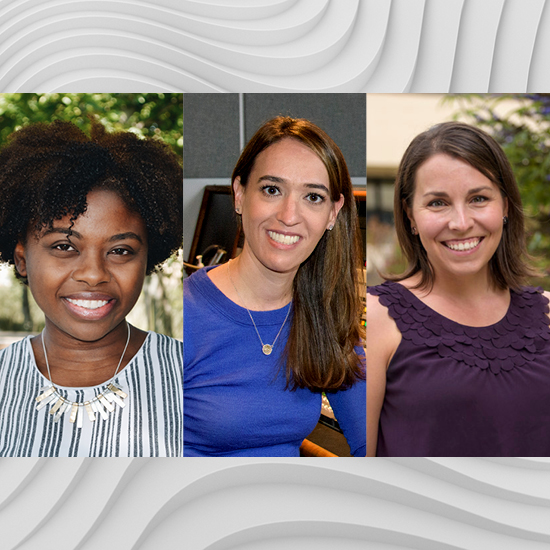 Three Seaver College professors, Nataria Joseph, Theresa de los Santos, and Lauren Amaro recently published their third shared article titled, "Naturalistic social cognitive and emotional reactions to technology-mediated social exposures and cortisol in daily life," in Biological Psychology. This article studies the effects that technology-mediated social exposures (TMSE's) have on a first-time mother's cortisol levels. In the study, A TMSE was any exposure to social information or interaction that is transmitted through technology such as cellphones, the Internet, or social networking sites for moms.
"Our similar experiences on social networking sites for mothers bonded us in pursuing this line of work," says de los Santos. "[We have a shared] goal of understanding how mothers experience these sites and how their engagement with the sites impacts their personal health."
With this objective in mind, the three professors led 47 mothers through a four day monitoring period, where the volunteers used physical activity and sleep monitors, provided saliva samples for cortisol analysis, and engaged with surveys concerning their "mom interactions," emotions, and other experiences throughout the day. Participants were active on social media, as 55.3% of them spent at least two hours a day on social networking sites and 46.8% used social media geared toward mothers at least four times daily.
The data that emerged from this testing period reveals that technology mediated social comparisons are not necessarily unhealthy for mothers. However, it also suggests that higher cortisol levels are related to negative interactions with other moms on social networking sites and more time spent with these interactions.
"We hope that this research adds depth and breadth to this area of study. It is the first time that daily life survey methodology and biomarker collection has been used to investigate this issue," says Joseph. "So, we hope that putting a spotlight on social comparison will make individuals pause and reflect on their social comparison tendencies and find healthy ways of making comparisons."
Learning responsible ways to consume TSME's also has practical health benefits. Higher cortisol levels pose direct implications on one's well being, including mortality, and beyond that, higher levels of maternal cortisol are associated with lower maternal sensitivity, which results in less healthy caregiving.1 Thus, discovering reasonable practices on social media is an important step for a mother's health as well as her child's.
"My advice is for mothers to first decide if the online space is the best place to seek support, given their existing tendencies to compare and their existing interpersonal relationships," says Amaro. "If a mom needs practical information (hey Facebook group, which pediatricians do you recommend?), online mom groups can be a wealth of knowledge and advice, though discernment is necessary. If it's friendship or reduced feelings of isolation, some online mom groups can also be wonderfully encouraging places to make "real-life" friends, but some are not. Moms should explore the culture of a group prior to engaging. It's always worth questioning why and what you're scrolling."
This most recent publication serves as the third installment in a series of articles these three professors have collaborated on. Each of the subsequent two pieces have examined the complex range of emotions expressed and experienced by mothers on specialized social networking sites and the multifactorial, biopsychosocial implications of social media use among first time mothers.
"Dr. Amaro's initial interest in the online exchanges that occur between mothers regarding parenting sparked the overall series of studies," claims Joseph. "This last study in the series was focused on the biological health implications of these exchanges, and it was based off my previous work using ecological momentary assessment to study daily life moments and cortisol hormone levels."
To learn more about Nataria Joseph's, Theresa de los Santos's, and Lauren Amaro's most recent publication, visit the Biological Psychology webpage.
References:
1.N. Vogelzangs, A.T.F. Beekman, Y. Milaneschi, S. Bandinelli, L. Ferrucci, B.W.J.H. Penninx, "Urinary cortisol and six-year risk of all-cause and cardiovascular mortality"; J. Ling, D. Xu, L.B. Robbins, J.S. Meyer, "Does hair cortisol really reflect perceived stress? Findings from low-income mother-preschooler dyads."