Morris Womack Speech Competition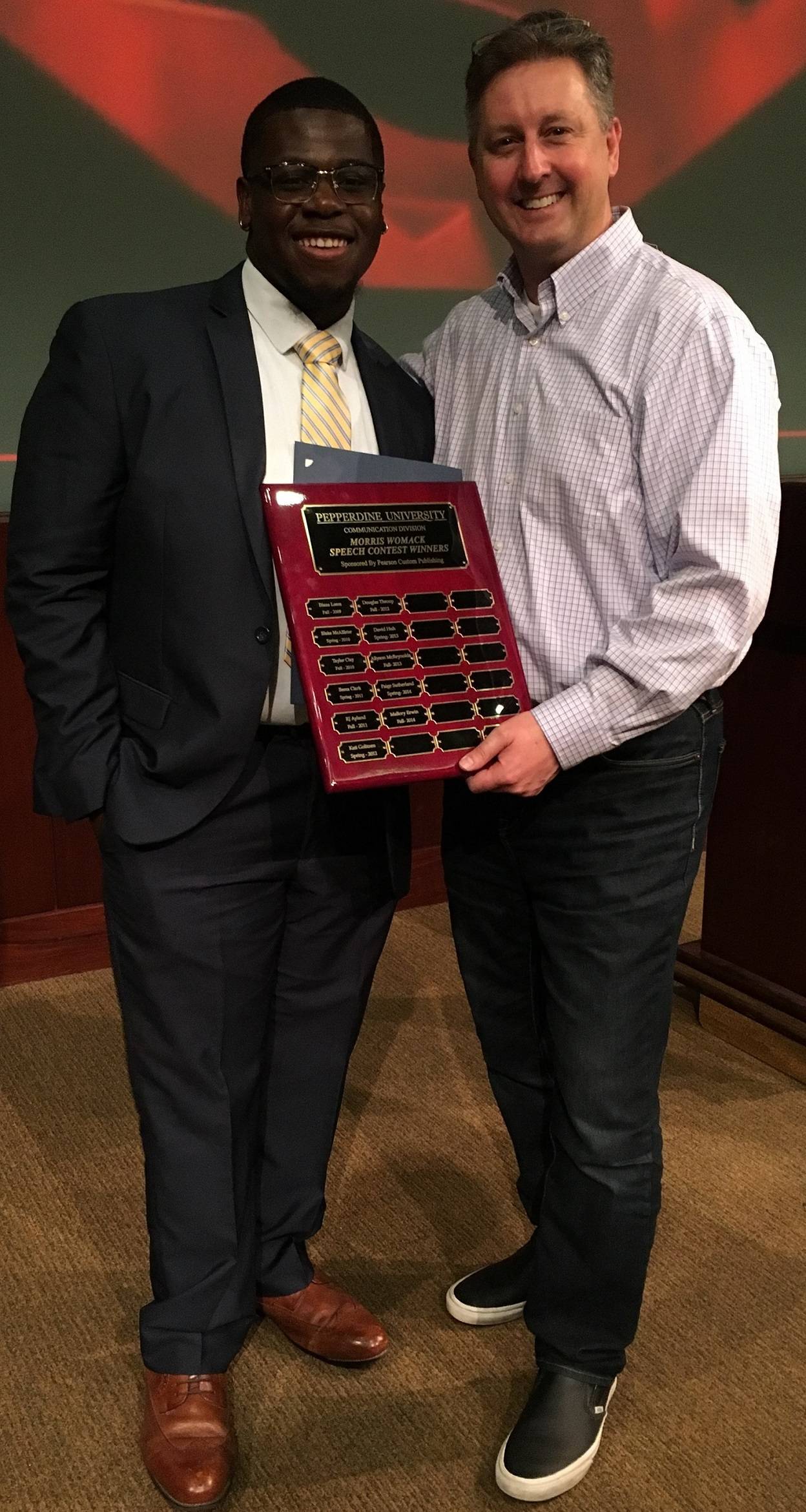 Prof. Gregory Daum with winner Ikechukwu Egwuonwu
The Morris Womack Speech Competition began in 1998 and honors Dr. Morris M. Womack. Dr. Womack served as the George Pepperdine College Registrar from 1967-1970. He served as a Professor of Communication from 1970-1999. He is the Founder of the Pepperdine University Forensics Program, the author of more than a dozen books, including "Learning to Live from the Parables," and Visiting Professor for the LA Sheriff's Department Law Enforcement Education Program through Pepperdine. Dr. Womack was the Chaplain of Men's Basketball Team, as well as a Church of Christ Minister and Speaker for more than 50 years.
As Professor of Communication, Dr. Womack taught more than 400 students each semester in Communication 180 – Speech and Rhetorical Analysis. The course is a requirement for all Seaver students. In the Womack competition, students compete over several evenings. There is a grand prize, and a prize for the runner up. The first round of the competitions is held in the individual classes as individual faculty and their students select the best speech given in that course. These 15 to 18 finalists then present their speech several more times during the elimination competition. Faculty and students serve as judges for those subsequent rounds, with the finalists delivering their speeches to students, faculty, families, and alumni in the large lecture class in the Center for Communication and Business, or in the Howard A. White Center (HAWC). At that final event, a Communication Division professor takes five minutes to recount to students the outstanding contributions of Dr. Womack to the field of Communication and to the ministry of the Churches of Christ. Dr. Womack attended every speech competition until his death in 9/2011.
A permanent plaque listing the winners hangs on the Legacy Wall in the Communication Division suite. The Womack finals represent the best of Pepperdine's students exhibiting strong oral skills, exceptional organization and research expertise, and critical thinking abilities that will serve them well in to the future.
Your gift to the Morris Womack Speech Competition will enhance the prestige of this honored tradition, providing more exposure to our students.


We would love to have you join us for the Womack Speech Competition this Spring! Check back soon for the spring date.
Past winners of the Morris Womack Speech Competition include:
---
Diana Losen – Fall 2009
Blake McAllister – Spring 2010
Taylor Clay – Fall 2010
Becca Clark – Spring 2011
RJ Ayland – Fall 2011
Kati Golitzen – Spring 2012
Douglas Throop – Fall 2012
David Huh – Spring 2013
Allyson McReynolds – Fall 2013
Paige Sutherland – Spring 2014
Mallory Erwin – Fall 2014
Matthew Zupan - Spring 2015
Omari Allen - Fall 2015
Tim Good - Spring 2016
Chase Manson - Fall 2016
Veronica Lempert - Spring 2017
Justus Bell - Fall 2017
Millie Viera - Spring 2018
Ikechukwu Egwuonwu - Spring 2019