August Alumni Highlight
Arnold Laanui ('90) Brings FBI Skills Into the Classroom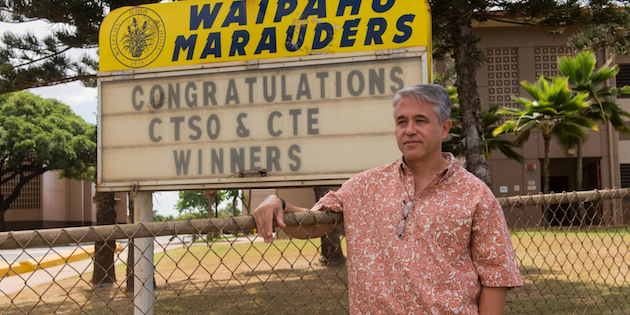 Arnold Laanui ('90), an FBI Special Agent, helped to establish the FBI Honolulu Division's Adopt-a-School program. Laanui, one of fewer than 20 Pacific Islanders in the FBI agent ranks, wanted to bring this program to his home state of Hawaii. He felt that by providing the right educational opportunities to students, crime rates would diminish.

In 2009, Laanui began to research Oahu communities with the highest crime rates and found that the neighborhood of Waipahu was the worst in the state. Approximately half of the juvenile criminals in Hawaii were coming from there. In certain areas, officers could not even leave their squad car unattended in fear of vandalism. From 2008 to 2010, almost half of the students from Waipahu High School failed to graduate on time. He decided to start his Adopt-a-School program here with a goal to completely change the neighborhood into a safe and friendly environment.

Laanui spent a year creating a curriculum for the program to align with the Hawaii Department of Education Standards. During this process, he realized he needed to learn so much more in this field so he went on to earn a doctorate in education. He designed his lessons with five general principles, which he calls "The Five Ps"; purpose, passion, persistence, practice, and positivism.

The Adopt-a-School program consists of two stages. It begins with ninth-graders who participate in a class where they learn about ethics, relationships, strategies for success, and leadership. They also design team projects that will help the school and community in various ways and participate in a "Shark Tank" style presentation where they try to receive funding from community leaders. For students who have a strong interest in the criminal justice system, there are classes that focus on law and justice, that Laanui helped create.
The students in the higher level courses take part in a mock kidnapping case, which includes a fully immersive crime scene, and they apply skills that they learned in class. Laanui has also been teaching the same courses at Sacred Hearts Academy, a private girls' school on Oahu. He designed the project to bring two groups of students from completely different backgrounds to work together to solve the case. The students quickly form partnerships to reach their common goal, similar to most jobs in the real world.

The principle at Waipahu High School says that Laanui has helped build a culture of caring at their school. The outcome of the program has created a mutual respect between students and teachers that has simultaneously spilled over into the community. Almost ten years into the Adopt-a-School program, violence and drug incidents at the school have decreased by more than 50 percent. Former students of Laanui's program are now leaders of change because of his work as well as the FBI and the local police who have teamed up to make a huge difference.
Read more of about Laanui's work with the Adopt-a-School program here.