Remembering Paul Perry ('50)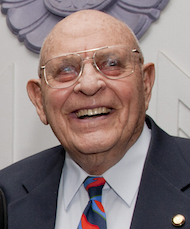 It is with sad hearts that we report our beloved alumnus, Paul A. Perry ('50) passed quietly on Saturday, July 11, 2015. Over the many years since graduating from the original George Pepperdine College campus, Paul stayed in touch with his classmates and alma mater. Paul's infectious personality stood the test of time with his peers, as well as connecting with many young people bringing life and joy to everywhere he went.
Pepperdine University's 2012 Distinguished Alumnus, Paul A. Perry, graduated from George Pepperdine College in 1950 and began a long and productive teaching relationship with Long Beach Unified that endured until his retirement. Paul was a highly regarded educator, an educational pioneer of sorts, creating a program for children with autism, attention-deficit disorder, and behavioral issues - at a time when the labels on those conditions were little known or nonexistent.
One colleague said, "For thirty-three years he was a popular, effective, and wonderful teacher who took on special needs children. With his patience, kindness, and firm, loving manner, he was very successful in reaching them and developing their potential."
Paul met his late wife, Lois, while she studied and worked at George Pepperdine College. They became a volunteer power couple for the Long Beach YMCA and the Los Altos YMCA. Paul has been a volunteer with the YMCA for half a century, serving on its board for the last forty-five years, in addition to being a camp counselor and leading youth groups to Mexico, Europe, and all across North America.
In retirement, Paul was a leading example of Pepperdine's mission. He drove the elderly to doctor's appointments; played guitar and sang for churches, library events and homes for the aged; read to the blind; and sang in men's quartets around the Los Angeles area. Here at Pepperdine, Paul was very involved with volunteer work, especially joining his fellow George Pepperdine College alumni giving tours of the original campus to current students. He also helped welcome the incoming classes during the New Student Orientation Student Mugging and proudly carried his Class of 1950 banner in our Founder's Day processions.
Paul enriched the lives of all who knew him. For us, Paul will be sorely missed, but know that he is in God's hands now singing with his beloved Lois.
Survived by his lovely family: his daughter Karen Perry Mobley, son-in-law Scott, grandchildren Lauren, Andrea, and Dylan and his wife Stacy Mobley.
Here is Paul's acceptance speech of the 2012 Distinguished Alumnus Award during the Seaver College graduation commencement ceremony.