Alumni Spotlight - Miriam McSpadden ('10)
Current City: Durham, North Carolina

Hometown: Hilsboro, Oregon

Graduation Year: 2010

Major: Telecommunications - Television and Film Production

Occupation: Freelancer - Director of Photography and Editor at PBS North Carolina, ESPN, US Figure Skating, and The Kefa Project.
Why did you choose to attend Pepperdine? Pepperdine was my reach school. It was the school that I didn't think I would be accepted to nor be able to afford. Pepperdine offered me a great financial aid package that made it possible for me to attend. I was thrilled to be able to attend a school with such strong academics and that was in such an incredible location.Pepperdine offered me a great financial aid package that made it possible for me to attend. I was thrilled to be able to attend a school with such strong academics and that was in such an incredible location.
Who influenced you most during your time at Pepperdine? Bill Dawson, Susan Salas and Scott Allen Smith. All of them told me that I had talent and dedication, and that I could make it in the Television and Film Industry. Before coming to Pepperdine I had never picked up a video camera in my life (true story). Without their encouragement, I don't think I would have stuck it out.
What is your best college memory? I loved hiking the canyons around Pepperdine. I tried to go hiking at least once a week. Nothing compared to sitting alone in nature, looking out at the ocean, and being grateful for the good things I had been given.
How would you describe Pepperdine in three words? Full of dreamers.
What is the most important thing you learned while at Pepperdine? Don't sacrifice passion for a paycheck. There is a strong sense of 'calling' at Pepperdine, that everyone is called to a vocation. Don't let go of that after leaving. Even if you have to take a job for the paycheck, find a way to be passionate about it, even if it's just to be a good co-worker or to passionately learn a new skill. That passion is infectious and it will take you farther than anything.
Describe your career path: Became a Director of Photography and video Editor by way of, being a teacher in China, a soccer coach in India, working as a Barista in Portland OR, becoming a Catering Coordinator for Panera, and finally landing in North Carolina.
What is your greatest professional accomplishment as of now?
Accomplishment – Winning my first Emmy
Working towards – The Oscars
How did your time at Pepperdine prepare you for what you are doing today? I have the best of two worlds. I get to work a job in America that I love, where I get the honor of telling stories through documentary. I also get to take 2 months off every year and volunteer alongside my husband, Brian Beckman, who is the Executive Director of a non-profit in Rwanda called The Kefa Project. It was exactly that 'vocational' calling that was impressed upon me during my time at Pepperdine that equipped me to negotiate this lifestyle. When offered a full time position, I knew in my gut that leading a life of service, and having the flexibility to go to Rwanda was extremely important to me. Because I expressed this, almost all of the businesses I work for were willing to work around my schedule and keep me on as a freelancer.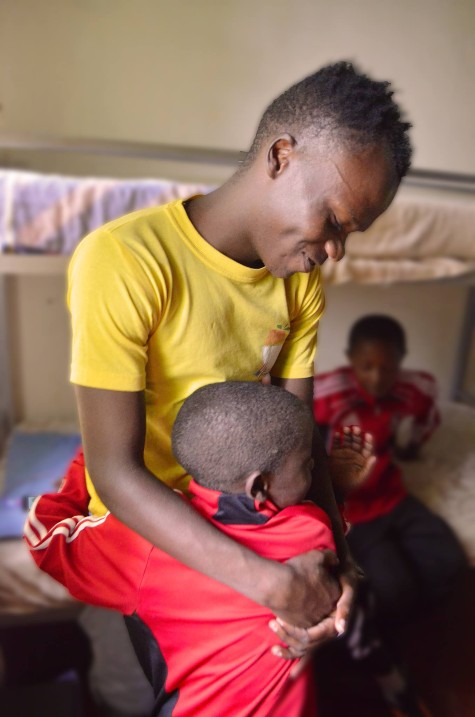 What advice do you have for current students who want to make the most out of their experience at Pepperdine?
Work really hard and take time to get to know your professors! Always listen well and be open to learning. There will always be someone who knows something different or better than you. Just as when you step into a classroom ready to learn, take that same curiosity and openness into life. YOU are the unique piece you bring to the classroom and to your future jobs.
What is something people may not know about you? My first paid gig in the film industry was in a Tollywood film (West Bengal's Film Industry) in Kolkata, India.
Anything else you would like to share? I'd like to just share my greatest personal achievement to date. As a quick background - The Kefa Project is a non-profit operating in Rwanda that uses soccer to connect with kids who are living on the streets, or who come from at-risk backgrounds, and then partners with them to find sustainable solutions for their lives. We work with 600 kids a week on community soccer teams. For kids where it is unsafe for them to live at home, we run a boarding academy where they live together, go to school, train in soccer and have other programs (dance, computer classes etc.) available to them. The non-profit has been operating for 10 years. Two years ago, we got to see our first class of kids, graduate from our Academy and go to college.
I remembered what it was like to open my Pepperdine financial aid package and realize that this university that seemed unattainable to me, suddenly become possible. And now I am getting to help be a part of providing college scholarships to kids who never dreamed of even finishing high school. All the professional accomplishments in the world, pale in comparison to that moment. Thank you for taking the time to read about my life. I'm proud to have come from an institution whose core value was, "Freely ye received, Freely give." Ayo Waves!
More Alumni Spotlights