Ben Holcomb: The Pursuit
Millennials are leaving the church in droves and one Pepperdine alumnus, Ben Holcomb ('14), decided to look into why.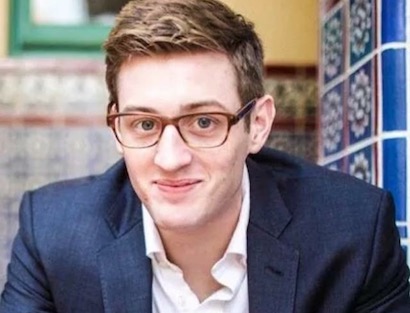 Ben Holcomb ('14) just published his first nonfiction book, The Pursuit. Aside from writing, he is the Assistant Director of Marketing & Digital Media in Seaver College Enrollment Management and produces Pepperdine's YouTube docuseries, Rising Tide. We sat down to chat about his new book and discuss why so many are leaving the church and his idea of a way to fix that.
What inspired you to write this book?
Ben: I grew up Protestant and nondenominational, but went to a Catholic high school and then I went to a Church of Christ college so I feel like I've been within the church in some form my whole life. After college, I felt weird about being so interested in Jesus, but so apathetic about attending church every Sunday. That felt like such a weird dichotomy to me of wanting to live this Christian life but feeling disconnected from the church. I started talking to friends of mine and realized my feelings weren't just internalized, a lot of people my age felt the same way.
So I set out to write an essay about it, and that essay became 3 essays, then 20,000 words, and eventually a 60,000 word book. The book fell in my lap in a lot of ways. From the research I did it was very alarming that 60% of millennials that grew up in the church have left it in the United States according to Pew Research polls.
This book is investigating this God shaped vacuum in the world. The first part is more philosophical on the individual level and the second part I make a connection that there is a God shaped vacuum in the heart of the world and the church should be filling it, but right now it's struggling to connect with millennials.
It always seems to come back to millennials, doesn't it?
Ben: Millennials get a bad rap. They are seen as lazy and self absorbed, but there's also a vibe that they're super into social justice and changing the world. We like the ideas of supporting companies like Toms where you buy their shoes and someone in need gets a pair. It's not that millennials hate God or hate the idea of being a good person, but there's a disconnect with the church and them according to the statistics. With this book, I first set out to understand the breadth and depth of the problem. I wanted Christians to see this as an objective, Global Church problem and not an indictment of their individual congregations. And then I wanted to provide some sort of actionable solution.
Ultimately I propose these college ministries called Hands & Feet Ministries, which turn church into a verb. It's like Step Forward day on a smaller scale. You use active community service to get college-aged seekers to embrace the Christian life, to rough it, as Jesus says, and experience for themselves the transformative power of servant leadership.
One alarming problem I found in researching this book was that people on the "outside" of the church tend to have very critical views of those of us on the "inside": they see Christians as "hypocritical, judgmental, and boring." How do you break down that wall? I think the best way is to eliminate the separation, and entrench the ministry into our local communities.
When did you first realize you wanted to write?
Ben: Growing up whenever I was bored I would write stories. When it came to applying to college it was pretty obvious to me that I should pursue what I'm passionate about, so that's why I came out to Pepperdine. I loved the proximity to Hollywood and being in SoCal in a small school while still having the Christian aspect was perfect for me.
Did someone specific inspire you on this way of life you're presenting in this book?
Ben: It's kind of cliché in a book about the church to say Jesus, but that's the truth. I think Jesus is the most fascinating person in human history. Here is someone who loved others relentlessly, who served the poor and outcasts of society, who was compassionate, uplifting, and full of grace. What's not to like about that? That was a big inspiration for this book, trying to find out where the disconnect was between the decline in religiosity and the life Jesus espoused. I wanted to find another way to authentically articulate his story.
How have you managed your time with your full-time job in Admissions and writing this book?
Ben: It's the same thing as when I was a kid. I like telling stories and like to do it for fun. So on weekends, weeknights, early in the morning; whenever I can get a chance to write I do. I started writing this January 2016, so it's been over a year and a half to complete. It's been a long journey.
What's something that surprised you while writing this?
Ben: As I discovered others my age shared similar feelings, I realized this could be something so much bigger than just a book. This could turn into a ministry. Maybe there are a lot of friends of mine that are on the fringe of churches who are sort of interested in Jesus, interested in having a meaningful life and being a good person, but aren't fully committed Christians every Sunday going to church. It was really exciting to have a theory start to solidify the further the book progressed.
Pepperdine tends to have a high percentage of students and alumni who appear to be leaning more ideals of living a fuller life. Why do you think that?
Ben: Henry David Thoreau once said, "The mass of men lead lives of quiet desperation" and I think that yearning exists in everyone. People want to have a purposeful life. Pepperdine students are particularly thoughtful and introspective people, especially at their age. I think our university mission of preparing lives of purpose, service, and leadership is attractive to the students who end up enrolling here!
Where do the proceeds to your book go in the month of June?
Ben: Preemptive Love Coalition. A big part of the book talks about using money in the church in a more effective way, so for me it felt slightly hypocritical to make money on this book. That's why every dollar of profit from this book goes to those in need and I believe helps solidify the point of the book in a larger scale.
That's the first charity I chose because I had a podcast a while back and I got connected to Matt Willingham, one of the storytellers and leaders of Preemptive Love. He was living in Mosul delivering food to people just blocks away from ISIS. I remember thinking, this guy is crazy, so I had to talk to him. We had an amazing hour-long conversation. Matt is someone who's really living a life in pursuit of Jesus, serving other people, and taking it to the extreme. I'm really inspired by him and was immediately connected to that organization.
What was your favorite food spot as a student in Malibu?
Ben: Haha! Favorite food spot... I love Chinese food. I used to love China House. It was down on PCH when I was a student. Or honestly? Pick-up Stix in Calabasas. It's disgusting but it's so good; it's delicious. I think when I die I'll have my funeral at PF Changs. I actually had Chicken fried rice for lunch!


To learn more about Holcomb's The Pursuit, click HERE.