Distinguished Alumnus Award 2016
Timothy C. Phillips ('87) honored as Seaver College's 2016 Distinguished Alumnus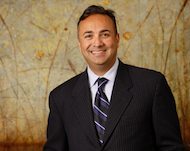 Timothy C. Phillips is the chief executive officer of Phillips and Company, one of the largest locally owned wealth management firms in Oregon. Phillips and Company has more than 2,000 clients nationwide and is ranked by Financial Planning magazine among the top 150 independent investment firms in America. Mr. Phillips' firm has also been highlighted in many publications for their unique 401(k) engagement model. Prior to forming Phillips and Company, Mr. Phillips was the board chair of the Willamette Family of Funds, which raised over $500 million in assets.
In 2004 he made a run for Congress and was appointed by the governor of Oregon to manage a fund that makes investments in venture capital and private equity on behalf of the state. In 2008 Mr. Phillips was named one of the Top 250 Wealth Advisors in America by Worth magazine. He has been sought out and quoted as a subject-matter expert in various media, including the Chronicle of Philanthropy, Private Wealth magazine, Wealth Manager magazine, and MSN Money.

Mr. Phillips supports many industry and nonprofit organizations, including his service as past chair of the Children's Cancer Association and current chair of the Foundation Board. He is also a member of the Associate Oregon Industries Board. An advocate for community involvement, he encourages volunteerism within his company through which he has directed support to Elevate Oregon, JOIN, the Portland Art Museum, and Randall Children's Hospital, among many others.

Mr. Phillips received his bachelor's degree in business administration from Seaver College in 1987. He is a regent of Pepperdine University, serving as a member of both the Endowment Committee and Advancement and Public Affairs Committee.