Worldly Waves Travel: London 2015
This August, fifteen Pepperdine alumni and friends hopped across the pond to the bustling town of London, England for five fun-filled days of Tube rides, river cruises, musicals and more. Alumni had the special opportunity of staying in Pepperdine's own London house in the lovely neighborhood of South Kensington. Tucked in amongst world-renowned museums such as the Victoria and Albert and the Museum of Natural History, this was a perfectly central spot to enjoy many of London's wonderful sites.
The trip began with a walk through Hyde Park, afternoon tea at The Orangery, and a tour of the Kensington Palace apartments and gardens. The evening ended with dinner at a local favorite, Bumpkin Chelsea, where fish and chips, pudding and other delightful British dishes were served. Day two began with a cruise tour along the River Thames, home to Big Ben, the Tower Bridge, and many other famous structures. And for a bird's eye view of the South Bank, alumni took flight on the London Eye, over 400 feet above the Thames. After a few hours of free time, the alumni reconvened to enjoy London's performance of Wicked at the famous Apollo Victoria Theater. As expected, it was a magnificent show with incredibly talented performers.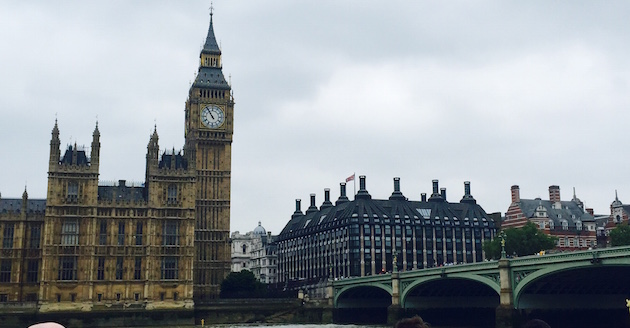 The following day included a tour bus trip from London to Windsor Castle, Bath and Stonehenge. Windsor was full of rich history and the alumni had a chance to see the Changing of the Guard ceremony. In Bath, they explored the mystical Roman Baths and enjoyed the delicious local ice cream. Stonehenge was an amazing site to see with its mysterious history and significance. The fourth day the alumni enjoyed lunch at an outdoor pub and sat amongst Fulham football fans getting ready to attend their team's big game. After another great day of free time to see the city, they ended with dinner at the prestigious Skylon Restaurant in the Royal Festival Hall along the River Thames. The following day the alumni headed onto their next adventure or stayed behind to tour the markets and canals at the Camden Lock market. A wonderful time was had by all as some alumni reminisced about the time they had spent in London as students others had a thrilling time experiencing the city for the first time.