Graduation Celebration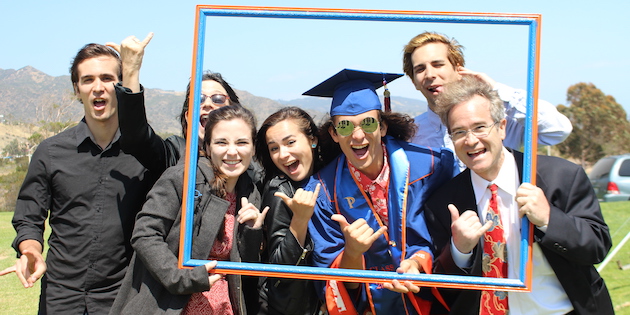 Friday April 26, 2019 at Mullin Town Square
REGALIA PICK-UP: 9:00am-4:00pm
LUNCH: 11:30am-1:00pm (First Come, First Serve)
JOIN US FOR AN UNFORGETTABLE, COME-AND-GO CELEBRATION AS GRADUATES ARE WELCOMED INTO THE PEPPERDINE ALUMNI FAMILY.
This inaugural event will take place on Friday, April 26, from 9 am to 4 pm in Mullin Town Square. Here, students may pick up their regalia as they enjoy free food, music, giveaways, and activity booths in a festive, village-like atmosphere. Graduating seniors will have the opportunity to connect with Seaver College Alumni Relations, Pepperdine alumni volunteers, and members of the graduating class before commencement the following day. Family and friends are welcome to join. This event combines and replaces Graduation Luncheon, Regalia Pickup, and the Loqui reception.
---
ALUMNI VOLUNTEERS
Help us celebrate the new graduates on campus! Stop by anytime between 9am-4pm to give out swag, pin the new grads, and enjoy free lunch on us. To register, click the "REGISTER" button, then select the "Register" button on the next page on the top right and select the "Alumni Volunteer" option.
---
Questions? Contact Hannah Dean or call 310.506.4348.

For more information about the graduation schedule, click HERE.