Alumni Art Showcase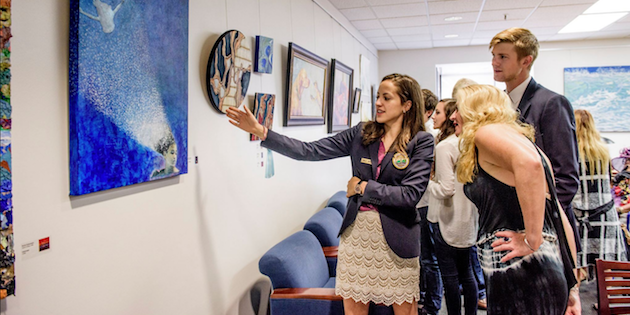 Fall 2018 Alumni Art Showcase
Seaver College Alumni Relations, Pepperdine University Libraries, and the Crest Associates are hosting the third Pepperdine Alumni Art Showcase in Fall 2018. The exhibit, showcasing Pepperdine alumni artists' best 2D works, will be installed on Pepperdine's Malibu campus in the newly renovated Payson Library and will run approximately 11 weeks, currently scheduled for August 20-November 6, 2018.
There will be a reception at Waves Weekend, Saturday, October 13, 2018 to connect with fellow alumni artists and to recognize our top submissions.
Thank you to all of our alumni artists who submitted for the showcase! We will be announcing the art selections soon.

For more information and submission criteria, click HERE.
---
We are accepting 2D art created by Pepperdine alumni.
Dimensions of each 2D art piece may not exceed 48"x48". Multiple large panels or canvasses that are submitted as part of one piece of work may be counted as multiple submissions depending on available space.
All work MUST be professionally wired. No saw tooth hangers. No wire, hanging rings, or other hanging apparatus may be visible from the front or top of the painting.
All works will need to remain in Pepperdine's care August 3-November 7, 2018 (to accommodate the duration of the exhibit's run).
Entries must solely be artist's original work, not done in a class or with an instructor, and completed in the last three years.
Artists of selected works will be responsible for arrangements and costs associated with delivery of the art to the Malibu campus and the return of the piece(s) to the artists. Please include return postage and/or prepaid labels with pieces that are sent.
Other Information
Additional information that you will be asked to provide on the online submission form:

A sale price for your work (or indicating "not for sale")
A brief "artist statement"
Title of each work, size and medium
Upload of an image file of your work

All sales will be directly between artist and buyer, and we would appreciate if you would designate 20% of your proceeds as a gift to Pepperdine's Fine Arts Division to empower and inspire the next generation of Pepperdine artists.
All submitted art will be reviewed, and we will announce decisions by mid-July. It is possible that your art will not be included in the exhibit, but additional art will be considered for inclusion in an online gallery.
We will send notification via email whether or not the art has been accepted, along with additional shipping/presentation instructions if applicable.
Artists assume all liability for the shipping, handling, and exhibition of their art.