2015 Young Alumni Award Honoree
Amanda L. Jacoby ('14)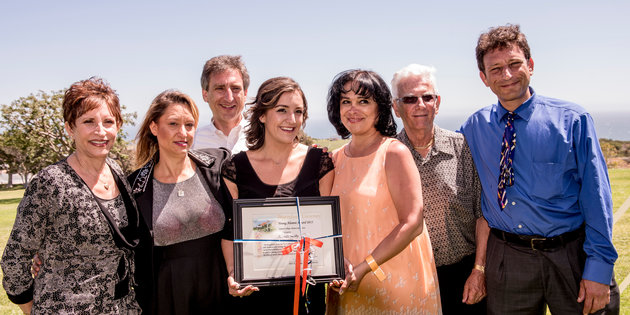 "I have seen the possibilities of what film can do for philanthropy and what philanthropy can do for the world."
Amanda Lee Jacoby ('14) came to Pepperdine in the Fall 2010 to study Telecommunications (Media Production). From her time at Pepperdine, she identified her vocational passion; helping people and using film as the medium. While working towards her degree, she simultaneously built a career in film and television. She held multiple internships including Principato-Young Entertainment in talent management, to Walt Disney Studios in script development, multiple independent film sets, and for the past Academy of Motion Picture Arts and Sciences President, Tom Sherak, who served as an example of a multi-dimensional career incorporating the film industry with philanthropy. She was also a member of Kappa Alpha Theta and Pepperdine's Model United Nations team.
By her senior year at Pepperdine, Amanda had worked as a casting assistant and associate on multiple feature films and casted an independent feature on her own. She was just starting her senior year in fall 2013 at Pepperdine when she was diagnosed with cancer. While her college friends went on to finish their fourth year, she began chemotherapy. During that time, Amanda worked from home in casting and development on feature films with Gabrielle Evans Fields and spent time with her family. By April 2014, Amanda finished treatment and was in remission. She took summer classes while writing an hour long drama series, with intent to combat gang violence and sex trafficking in Los Angeles.
In the fall of 2014, Amanda finished her degree and began working full-time. She worked as a casting associate on an hour long drama series for ABC Studios. She casted and executive produced a feature film with intent to combat sex trafficking in Los Angeles and is currently developing a television series with experts in law enforcement and philanthropists.
---