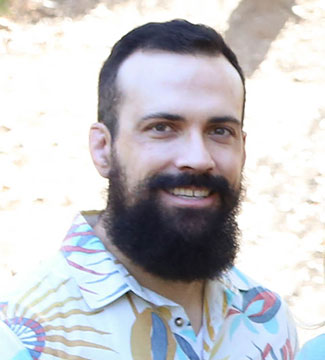 Tomás Bogardus
Associate Professor of Philosophy
Religion and Philosophy Division
, Seaver College
CAC 114
Biography
Tomas Bogardus was born in Long Beach, California, and earned his BS in biology at UC San Diego, his MA in philosophy at Biola University, and his PhD in philosophy at the University of Texas at Austin. He works mainly in metaphysics and epistemology, and is most interested in the mind-body problem and the rationality of religious belief. He lives with his wife and daughter in a small California hippie/hipster town, and his hobbies include woodworking, bodyboarding, surfing, and no gi jiu jitsu.
Education
PhD in Philosophy, the University of Texas at Austin, 2011
MA in Philosophy of Religion and Ethics, Biola University, 2004
BS in General Biology, UC San Diego, 2002
"How to Tell Whether Christians and Muslims Worship the Same God," co-authored with Pepperdine student Mallorie Urban, Faith and Philosophy 34(2): 176-200 (2017)
"Only All Naturalists Should Worry about Only One Evolutionary Debunking Argument," Ethics 126(3): 636-661 (2016)
Review of Epistemology of Disagreement: New Essays by David Christensen and Jennifer Lackey (eds.), co-authored with Pepperdine student Anna Brinkerhoff, Analysis 75(2): 339-342 (2015)
Invited Referee and "Participant-at-Large" for Young Philosophers Conference, DePauw University, Fall 2017
Invited "Participant-at-Large," Midwest Epistemology Workshop, University of Wisconsin, Madison, 2016
Selected Participant, Summer Seminar on Understanding, Fordham University, 2016
Featured Author, The Philosophers' Cocoon, 2014
Comments on Brian Barnett's "An Epistemic Assessment of the Modal Ontological Argument" March 2018. Pacific APA, San Diego. Invited by Todd Long.
"Some Internal Problems with Revisionary Gender Concepts"

March 2018. Northern Illinois University. Invited by Geoff Pynn.
October 2017. Biola University. Invited by Tim Pickavance.
June 2017. Vrije Universiteit, Amsterdam. Invited by Jeroen De Ridder.
May 2017. Cal State San Bernardino. Invited by Matthew Davidson.
October 2016. St. Norbert College Philosophy Colloquium Series. Invited by Joel Mann.

"Scientific Explanation and the Mysterious Laws of Nature" October 2015. Brackenridge Philosophy Symposium in honor of Marilyn McCord Adams, UT San Antonio. Invited by Michael Almeida.
"Hick's Variety Problem and Religious Disagreement"

October 2015. Brackenridge Philosophy Symposium in honor of Marilyn McCord Adams, University of Texas--San Antonio, invited by Michael Almeida.

"Debunking Religious and Moral Beliefs"

April 2014. Loyola Marymount University, invited by Tom Ward.
November 2013. St. Norbert College, invited by Joel Mann.

"Overdetermination, Backtracking, and Physicalism"

SUNY Fredona Young Philosophers Lecture Series, February 2013
Southern California Philosophy Conference, San Diego State University, October 2014

"Knowledge Need Not Be Safe"

University of Edinburgh Graduate Philosophy Conference, March 2011

"Presence at a Distance"

Personal Identities, their Embodiments and Environments. University of Hertfordshire, Hatfield, England, July 2010

"Foley on Self-Trust and Religious Disagreement"

5th Annual Philosophy of Religion Conference. Baylor University; invited by Jon Kvanvig, February 2010

"Disagreeing with the Skeptic"

Responsible Belief in the Face of Disagreement. Vrije Universiteit, Amsterdam, August 2009

"A Vindication of the Equal-Weight View"

Episteme Conference: The Epistemological Significance of Peer Disagreement. Northwestern University, June 2009

"Can Brains Be Certain?"

37th Annual Meeting of the Society for Exact Philosophy. University of Alberta, May 2009.
The Arche/CSMN Graduate Conference. University of Oslo, Norway, November 2008.
62nd Annual Mountain-Plains Philosophy Conference. Hays, Kansas, October 2008 Society of Christian Philosophers Conference. UC Riverside, October 2008

"Defeating Dualism"

UCLA/USC Graduate Student Conference. University of Southern California, February 2008
UT/UNAM Philosophy Conference. UNAM, Merida, Mexico, October 2007

"Is Introspection Mechanistic?"

PhilMiLCog 2007. University of Western Ontario, May 200

"Two Wrong Turns for Type-Identity Physicalism"

Oxford Graduate Philosophy Conference. Oxford University, November 2006.
Yale/Uconn Graduate Conference. Yale University, October 2006
Topics
What is the relationship between the mind and the body?
Can we know that God exists?
Do Christians and Muslims worship the same God?
What is the nature of knowledge?
What is the nature of gender?
Courses
Epistemology
Philosophy of Mind
Logic
Western Civilization (1815-present)
Ethics
Philosophy of Religion
Introduction to Philosophy