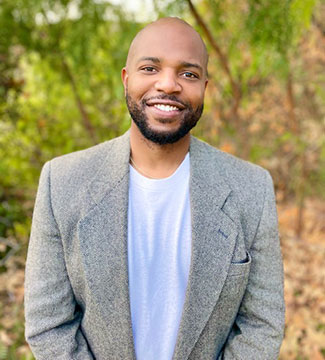 Terrelle Sales
Assistant Professor of Teacher Education
Humanities and Teacher Education
, Seaver College
CAC 105
Biography
Dr. Terrelle B. Sales has worked in many capacities during his tenure in public education for LAUSD beginning as a Middle School Mathematics teacher, all the way up to serving as a High School Assistant Principal of Mathematics and Science Instruction. He currently works as the Assistant Professor of Teacher Education at Pepperdine University. Dr. Sales works with the Commission on Teacher Credentialing for the state of California serving on the Education Specialist Teacher Performance Assessment Design Team. In the Spring of 2020, Dr. Sales was elected to serve a three year term on the Board of Directors for the California Council on Teacher Education (CCTE) and is also the newly appointed Editor for CCNews.
Dr. Sales' research interests include education, religion, critical pedagogy, critical theory, critical theology, and theology. His dissertation topic focused on the interconnectivity of theology, education, and critical pedagogy, ultimately leading to what he has deemed the Pedagogy of Jesus Christ. In 2019 he had the privilege of presenting with Dr. Antonia Darder at AERA for the session, "Decolonizing Interpretive Research: A Subaltern Methodology for Social Change." Dr. Sales has been happily married to his wife Porsha Sales for 14 years and ecstatically looks forward to spending the rest of his life adoring her. They share the joint calling of foster care and sees it as a ministry to help show the love of Christ to children of all ages. They currently foster four children Levi (9), Ashton (7), Sharia (4), and Celestia-Luna (4).
Dr. Sales' book "An Emancipatory Pedagogy of Jesus: Towards a Decolonizing Epistemology of Education and Theology" was published in June of 2021 by Rowman & Littlefield. Dr. Sales received his BA in Liberal Arts and Teaching Credential from Pepperdine University, his MA of Education in Teacher Leadership from Vanguard University, and his EdD in Educational Leadership for Social Justice from Loyola Marymount University.
Education
PhD Education in Leadership and Social Justice, Loyola Marymount University, 2017
Sales, T. B. (2021). An emancipatory pedagogy of Jesus: Toward A decolonizing epistemology of education and theology. Hamilton Books, an imprint of Rowman & Littlefield.
Sales, T. B. (2020). Love: A critical pillar in the pedagogy of Jesus. Christian Education Journal: Research on Educational Ministry, 1–15. doi: 10.1177/0739891320918592.
Sales, T.B. (2019). Emancipatory Re-Readings. In A. Darder (Ed.), Decolonizing interpretive research: A subaltern methodology for social change (pp.104-115). Routledge.
Teacher Researcher Award, Vanguard University, 2011
Diversity Leadership and Service Award, Vanguard University, 2021 Presented by the Provost of Vanguard University, Dr. Pete Menjares
2021 Meredith Fellows Performance Assessment Implementation Conference, California Commission on Teacher Credentialing, "Funds of Knowledge & The Importance of Connecting Culture to Content July 8th, 2021 Role: Presenter
2020 Fall California Council on Teacher Education Research Monograph Virtual Discussion, December 16th, 2020. Group C: Expanding the Study of Teaching and Teacher Education Role: Moderator
2020 Fall California Council on Teacher Education Virtual Zoom Conference Theme: The Future of Teacher Education Role: Board Member, Attendee
2019 CalTPA Regional Faculty Workshop. Irvine, Ca December 11th, 2019, Concordia University. Role: Attendee
2019 Fall California Council on Teacher Education. San Diego, Ca October 16th - October 17th Session: Poster Presentation – Poster 22 "Critical Consciousness, A Pedagogy of Jesus: An Evaluation of Paulo Freire's Conscientization" Role: Attendee & Presenter
2019 Responding to California's Shortage of Bilingual Teachers: 2nd Deans' Leadership Summit, Los Angeles, CA, June 14th, 2019. Loyola Marymount University School of Education: Center for Equity for English Learners Role: Attendee
2019 AERA Annual Meeting: Leveraging Education Research in a "Post-Truth" Era: Multimodal Narratives to Democratize Evidence. Toronto, Ontario, Canada, April 6th, 2019 Session: Decolonizing Interpretive Research: A Subaltern Methodology for Social Change Role: Co-Presenter, Emancipatory Re-Readings
2019 Advancing Women in Leadership Conference. Vanguard University, Costa Mesa, Ca, March 19th, 2019 Session: The Woman at the Well: How to Model Christ's Compassion in Organizational Leadership Role: Presenter
2019 ENSURE Justice Conference. Vanguard University, Costa Mesa, CA, March 2nd, 2019 Session: Supporting Vulnerable Children in the Classroom Role: Co-Presenter, Restorative Justice Practices in the Classroom
2018 Southern California Christian Educator's Conference, Anaheim, CA, March 3rd, 2018 Session: Bridging the Gap: A Pedagogy of Jesus Christ Role: Presenter
2018 Spring California Council on Teacher Education Conference, Sacramento, CA, March 8th-9th, 2018 Theme: Spring Policy Action Network Role: Attendee
2018 ESCALA Training, Costa Mesa, CA, September 14th, 2018 Session: ESCALA Training Role: Attendee
2018 Fall California Council on Teacher Education Conference, San Diego, CA, October 18th -20th, 2018 Theme: Changemaking and Teacher Education Role: Attendee
2017 Fall California Council on Teacher Education Conference, San Diego, CA, October 19th-21st, 2017 Theme: Social Justice & Equity: Having a Meaningful Dialogue to Inspire Action Role: Attendee
Topics
Theology
Pedagogy
Critical Pedagogy
Jesus the Teacher
Critical Theory
Critical Theology
Curriculum
Courses
EDUC 461
EDUC 530
EDUC 531