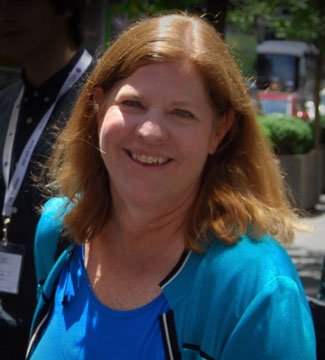 Susan Edgar Helm
Professor of Nutritional Science
Director of Didactic Program in Dietetics
Coordinator
Student Advisor A-M
Natural Science Division
, Seaver College
RAC 111
Education
FAND, Fellow of the Academy of Nutrition and Dietetics
PhD, University of California, Davis (Physiological Chemistry)
MS, Texas A & M University (Clinical Nutrition)
RDN, Registered Dietitian Nutritionist (1986)
BS, Cornell University (Nutritional Biochemistry)
Tuska, R.M., Helm, S.M., Graf, C.F., James, C., Kong, G., Stiemsma, L.T., Green, D.B., and S.E. Helm. (2022) Surfeit folic acid protein, and exercise modify oncogenic inflammatory biomarkers and fecal microbiota. Frontiers in Nutrition: Nutrition and Microbes. vol 9. https://doi.org/10.3389/fnut.2022.1060212

Helm, S. E., Blayney, M., Whited, T., Norrozi, M., Lin, S., Kern, S., Green, D. and A. Salehi. Deleterious effects of chronic folic acid deficiency in the Ts65Dn mouse model of Down Syndrome. Frontiers in Cellular Neuroscience. (2017) 11(161):1-9.
Helm, S.E., Blayney, M. Whited, T., Lin, S., Kern, S., Averill, A., Crawford, K. and D. Green. Understanding the influence of dietary folic acid as a biomarker of Down Syndrome with measurement of key regulatory enzymes and metabolites in the methylation pathways of folate synthesis, using a cognitive mouse model Ts65Dn. Journal of Nutrition and Food Science. (2016) 6:3(Suppl):74.
Helm, S. E., Murrie, M., Griffin, B., and D. Chen Maynard. A telenovela: La Guia mas sans de Comida Rapida./Ventura Diet and Nutrition Education DVD project. (2013).
Edgar (Helm), S., Kirk, C.A., Rogers, Q.R. and J.G. Morris. Taurine status in cats is not maintained by dietary cysteinsulphinic acid. (1998) Journal of Nutrition. 128:751-757.
Edgar (Helm), S., Hickman, M.A., Marsden, M.A., Morris, J.G. and Q.R. Rogers. Dietary cysteic acid serves as a precursor of taurine for cats. (1994) Journal of Nutrition. 124:103-109.
Edgar (Helm), S., Morris, J.G., and M.A. Hickman. In vivo conversion of cysteic acid to taurine in the cat. (1991) Journal of Nutrition. 121:S183-184.
Kubena, K.S., Edgar (Helm), S., and J.R. Veltman. Growth and development in rats and deficiency of magnesium and pyridoxine. (1988) Journal of the American College of Nutrition. 7:317-324.
Herbert, D. and Nylda Gemple Research Award, Neuroscience and Nutrition ($5,000)
Academy of Nutrition and Dietetics Foundation National Award

Woodsen-Claiyssen Foundation Award ($75,000)

A Telenovela DVD: Nutrition Education and Diabetes Prevention

National Science Foundation Grant (Co-PI), QPCR instrument ($121, 635)
Zellmer Grant-California Academy of Nutrition and Dietetics (CAND) ($10,000)
Honors
National Honor Society of Phi Kappa Phi
Honor Society of Agriculture, Gamma Sigma Delta
The Scientific Research Society, Sigma Xi
Excellence in Dietetics and Nutrition Education, 2017 CAND
Topics
Methyl Metabolism and Cognitive Decline (Down Syndrome and Alzheimer's Disease)
Translational Science and Nutrigenomics
Nutritional Biochemistry-Regulation of Metabolism
Courses
Nutrition (all levels)
Therapeutic Nutrition (MNT)
Laboratory Research
Research Methods and Statistics