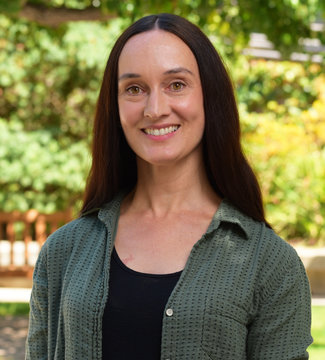 Stephanie Donnelly
Visiting Instructor of English
Humanities and Teacher Education
, Seaver College
Biography
Stephanie Donnelly earned her MA in English from Loyola Marymount University and her BA in English (Honors Colloquium) from Pepperdine University. She has taught lower- and upper-division courses in literature, composition, creative writing, film, and popular culture in the Departments of English and Education at Loyola Marymount University and Pepperdine University. Professor Donnelly also served as the assistant director of the Writing Center and first-year writing coordinator at Azusa Pacific University. She is a longtime editor for the music magazine The Big Takeover, and she has contributed to The Los Angeles Review of Books, Trouser Press, Film Threat, DC Comics, and iTunes. As a graphic novel editor, her series include Sailor Moon, Vampire Hunter D, and many other titles.
Education
MA with Distinction, Loyola Marymount University, 2006
"Personal Pedagogies: Tutoring and Classroom Confidence," Freshman English Program (FEP) Training Conference, Loyola Marymount University, 25-27 Aug. 2007.
Editor, How to Pen & Ink: The Manga Start-Up Guide, Digital Manga Publishing, 2006.
Series Editor, Hellsing, Dark Horse Publishing, 2004.
Series Editor, Trigun, Dark Horse Publishing, 2003.
Series Editor, Cowboy Bebop, Tokyopop Publishing, 2002.
"Caught in the Net," San Diego Comic-Con International, San Diego, California, 15 July 2000.
Brett J. Love Award for Teaching Excellence, Humanities and Teacher Education Division, Pepperdine University, 2019
Will Eisner Comic Industry Award Nominee: Best US Edition of International Material — Japan, Antique Bakery, 2007
YASLA "Great Graphic Novels for Teens" Award, Antique Bakery, 2007
Department of English Scholarship, Loyola Marymount University, 2001-2002
Golden Key National Honor Society Scholarship, Pepperdine University, 1997
Professional Equity Project (PEP) Grant, Conference on College Composition and Communication, 2017
Teaching Fellowship, Department of English, Loyola Marymount University, 2002-2004
Rains Research Grant, Loyola Marymount University, 2002-2003
Topics
Composition and Rhetoric
Irish Literature
Graphic Narrative
Visual and Performing Arts/Dance
Urban Studies/Los Angeles
Courses
English Composition
English for English Language Learners
Advanced Composition
20th Century Irish Fiction and Film
Theory of Teaching Writing and Literature
American Literature II
Introduction to Poetry
Introduction to Fiction
Language of Drama
Creative Writing for Non-Majors
Writing in the Sciences